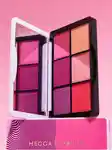 The Limited Edition MECCA MAX x MECCA M-POWER Mini Mix Eyeshadow Palette.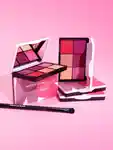 "Through dance, we break down social barriers, while building on mental and physical health," explains Hëna, who has been a Teaching Artist with L2R since 2015, and its Community Development and Events Co-ordinator for four years.

"We have unified young people through dance and helped build skills and attributes they can use in everyday life. We also have an emerging artist program where we mentor young leaders, as well as L2R Mob, which is our youth committee.

"They are the voice of L2R."

Emily, who teaches dance at L2R, adds, "I get such joy from L2R Dance. Every single person, in their own way, is just amazing, and so genuine and giving. I always say that L2R is like its own little family. "It's about community and staying connected and bringing dance to the lives of young people – but also people of all ages, people of all backgrounds. That's L2R in a nutshell.

"That sense of belonging is something I hope every young girl can experience."

Here, we meet the talented L2R dancers and find out what inspires them…
Nolly, on challenging conventions
"Growing up in a village in Myanmar, it was far from a city life. I played on the street with my friends, and there was no screen time – we didn't own a TV. The only dancing I did was at the school's annual award ceremony, where we did a traditional type of dance.

"My grandmother always reminded me: what goes around, comes around. So that's the mindset that I always try to have. Treat others with respect, how you want to be treated, and always be grateful for what you have and where you are in life. I tried to remember that when I arrived in Australia in 2012. I was 12 years old and at first, I felt quite unsettled. I had left everything I knew behind — I had no friends; everything was foreign and new. I had to adjust.

"It was a year later when I had my first experience with street dancing at Wells Language School. Jacinda [Richards, founder and CEO of L2R Dance] came over and showed us some moves – the music, the dance style... I fell in love. It's quite different to what I'm used to. In the Burmese community, dancing is not considered something you do 'for fun.' It can have a bit of a negative connotation.

"I'm Christian, and at church we always sing, but singing is considered a form of praise – whereas dancing can be interpreted as making fun of yourself, or some people connect it to clubbing. Even though clubbing isn't necessarily a bad thing, dancing is not really appreciated in our community.

"My first time in class at L2R Dance, I was a bit scared. I didn't know anyone, but when we started dancing, I just followed along. I finally felt like I belonged somewhere. Everyone was so supportive. For me, dance is a form of art and a form of expression.

"If I had to choose one word from the MECCA MAX Mini Max Eyeshadow Palette that resonates with me now, I would say pride, because I do take pride in what I do – no matter if it's big or small. Pride is something I carry around with me."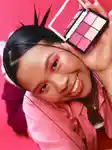 Stephanie, on finding happiness
"I originally started dancing in my room watching YouTube tutorials before discovering K-Pop and performing at my high school. I was introduced to L2R and the amazing world of hip-hop dance in 2018.

"For me, dance has created the person I am today. It has helped me to become more confident and I've met many phenomenal and inspiring artists who have allowed me to develop happiness within myself and spread happiness to others within my community.

"I'm an emerging artist, which to me means a creator who never stops learning and growing. who continues discovering who they are and who they want to be as an artist throughout their career.

"In this continuous journey, there will be moments that will be tough and may cause us to be frustrated with ourselves – but that, in turn, will aid us in pushing us forward to recognise what we want and find the right pathway for us."
Hëna, on building confidence
"I'm constantly striving to explore new ways to create, engage and innovate, while celebrating everybody in the Arts. Dance and music are the universal languages of the world. We all love music, and dancing comes with music. You don't need to connect through speech, you can express and engage through the power of music and dance.

"When I'm dancing, there are a million different emotions that come to mind, but for the most part, I feel free. It's the one moment where the rest of the world doesn't really matter. You're just very present in the moment.

"Dancing has really helped me build my confidence. I've danced alongside Robbie Williams, Jessica Mauboy, Baker Boy, Joyce Wrice and PANIA and have also worked with brands such as Bonds and MECCA. When I dance, I'm just in my body and feel very present in the moment. Dance has enabled me to love myself and find deeper internal connection.

"Girls need to remember that all these self-doubt moments are part of life. We all need to go through them in order to then realise that there is a place for everybody in this world. We're all so unique and our individuality should be celebrated.

"I'd give my younger self a hug. I'd tell her that everything is going to be sweet and you're on the right track. Believe in yourself! All the little insecurities and momentarily stressful situations – you're going to get through them and they're only going to make you a stronger, more powerful person in the end."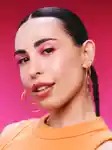 Abul, on the power of sisterhood
"Being a girl means sisterhood; I think it means community as well. My girlfriends all have each other's back – we hold each other up. Dancing makes me feel the most pride. I think it's because I'm in my own world [and] I don't have to think about anything else. My mind is fully, completely, indulged in dancing."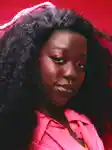 Emily, on passion and purpose
"When I was little, we had this Justin Timberlake CD – the
Justified
album – and my mum says that whenever that was on, I'd do this little bop in the living room, and I wouldn't let her turn it off. Dance is probably something that's always made me happy, or at least moved me.
"I was only three when I started dancing. There was no slot available for me in Kinder, so my parents put me in a dance class instead. My whole life has been about dance, and my parents have always supported me. I'm very, very lucky to have them.
"Dancing makes me feel like me. I don't know how to explain it. You can just express yourself in a way that you can't through anything else, for me at least. But there are downsides. Dance does make you hyper-aware of your own body at some points. There's the misconception when you're going through ballet that you need to be really slim and petite; as I've gotten older, that is slowly changing, and it's really nice to see that everyone's being accepted and embraced.
"It wasn't until I went into the street dance scene that I started becoming really confident in my body, and I guess my curves, because I'm on the curvier side. It was so nice to be appreciated for having those curves and those strong legs, and the muscles that we dancers grow up having.
"Now I'm a teacher as well, so I try to instil passion in all my students. That's the word that resonates most with me when I look at the MECCA MAX eyeshadow palette – I'm a very passionate person, a very enthusiastic person. I always say to my students, 'Just do your own thing and don't worry about other people.' It's easier said than done, but you have to be the change that you want to see in the world."
Discover more about L2R Dance and its mission here.