The classic red lip: let's talk about it
January 1 | 44 minute listen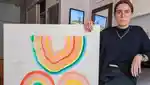 Special Guests: Jen Horsley & Amber Vittoria
Hosted By Kate Blythe & Zara Wong
Originally published on | April 6
Welcome back to MECCA Talks, your access all areas pass to the beauty, business, and lifestyle experts we call our community.
MECCA makeup expert Jen Horsley is back on the podcast to talk us through beauty's most iconic – and contentious – look: the red lip. Then, New York-based artist and poet Amber Vittoria joins Kate and Zara to dish the details on her recent project, MECCA's all-new logo, iconography and packaging.
Take notes as Jen, a self-proclaimed 'red lip connoisseur', shares her top picks for the perfect crimson pout and the quasi-rule we should all be following when it comes to lip liner…
…before Amber talks us through her creative process, designing MECCA's new visual identity, staying inspired through the pandemic, and dipping her toes in the world of digital art and NFTs.