François Nars of NARS Cosmetics, in conversation with MECCA founder Jo Horgan
January 1 | 68 minute listen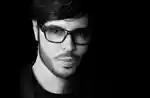 Special Guest: Mr François Nars
Hosted By Kate Blythe & Jo Horgan
Originally recorded on | October 5
Welcome back to MECCA Talks, your access all areas pass to the beauty, business, and lifestyle experts we call our community.
In this episode, and in celebration of 25 years of MECCA, Kate hands over hosting duties to MECCA founder Jo Horgan for a supremely special conversation with creative genius, beauty industry legend and the man behind NARS Cosmetics, Mr François Nars.
In the rare interview, Nars shares the inception of some of the beauty industry's most popular and bestselling products (think NARS Sheer Glow Foundation, 'Laguna' Bronzer and 'Orgasm' Blush). He reflects on an unparalleled, decades-spanning career – and candidly shares the path that led him there. And, Nars shares memories of painting – and photographing – some of the world's most recognisable faces: Kate Moss, Tilda Swinton, Naomi Campbell, Linda Evangelista, Kim Kardashian, Bella Hadid, Sigourney Weaver and Liv Tyler among them.
Like the 25-year-long partnership between NARS and MECCA, this episode is one for the beauty history books. Hit play!