From her clinic in Düsseldorf Germany,
Dr Barbara Sturm
has built a reputation for skincare that leaves the complexions of her (many) fans - the likes of Bella Hadid, Emily Ratajkowski, Kourtney Kardashian among them - looking clear, plump and seriously glowing.
If you love your skin, it will look great, and love you back
Here, Dr Sturm shares the secret to her legendary #STURMGLOW, including her personal routine (get ready to take notes) and the skincare rules she'll never break...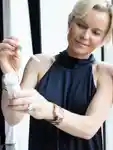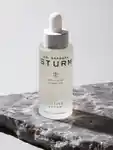 On taking care of her skin
"I would say I am more disciplined about a few things; I use my Face Mask every day and dry brush daily. I like to peel rather than wash my Face Mask off, which makes it work double as an exfoliant and facial massage. I use my Anti-Pollution Drops to protect against blue screens and keep it next to me to reapply frequently."
She is also trying to make sure she gets adequate sleep and maintains a healthy diet. "I avoid excess alcohol, sugar, flour, fried and processed foods, and eat foods like avocados, salmon, olive oil, tomatoes, nuts, dark berries and green tea."
"I also love to take milk baths with my daughter. I dissolve a cup of dark honey into hot water and add that along with a gallon of milk to my bath. The skin benefits are tremendous," she says.
Sturm reminds us that sleep is the time for the body to rest and restore.
Her tips? "I don't drink much [alcohol], and I don't eat big heavy meals close to bedtime. I get into bed early, often with my child. I keep the room dark and noise-free. And I do not look at a digital device close to bedtime or in the night."

"The Night Serum was a big idea - creating a serum that would work within the essential night-time routine to cultivate the appearance of rejuvenated skin," she explains, recommending it to be used on clean skin right before bedtime. "It's a super high-performance skin booster."
"The Night Serum has cotton thistle extract to counteract the appearance of dryness. Senna alata extract and purslane are rich in antioxidants, while a [mushroom] compound, Poria cocos, tones the appearance of skin. Beta-glucan calms the skin's appearance, and all of this is anchored by my high concentration, balanced molecular weight hyaluronic acid."
The Hyaluronic Serum is the "white T-shirt" of her range, as she puts it. "It was one of the first ones I created, the most essential products that should be part of your skincare regimen every day."
Meanwhile, the Lifting Serum is another active-packed formula: "The Lifting Serum is like magic. It's specific to your needs. You can use it in the morning before going out in public and top it up during the day [or] you can use it right before going out at night."
"Serums are absolutely fundamental," advises Sturm, who starts her morning skincare with
cleanser
,
serums
,
moisturiser
, SPF and then the
Anti-Pollution Drops
. "Apply serums onto cleansed skin immediately after drying (to avoid trans-epidermal water loss). Lipid-based moisturisers must come after serums for serums to do their job," she explains.