From the fair to the ultra-deep, no skin tone is immune from the harmful (and ageing) effects of UV rays – and one part of our defensive arsenal is layers of SPF.
But while we all want our skin to stay as protected as possible, we also want to avoid the terrible trio of sunscreen side effects: excessive shine, breakouts and white cast (think: Mark Zuckerberg on a paddleboard).
Happily, the days of ghostly greasiness are gone; when it comes to choosing the best facial sunscreen, these options easily slip into your everyday routine without a trace. Plus, many of them contain active extras such as vitamin C and hyaluronic acid to purify, plump and prime pre-makeup. How far we've come…
Best skincare/spf hybrid sunscreen
For the one-and-done skincare types – or the ones that want the most out of every element of their skincare routine – look to
MECCA COSMETICA's
genre-bending
To Save Face SPF50+ Brightening Sun Serum
. The fluid, ultra-lightweight sunscreen formula has been cleverly designed to counteract the visible signs of sun exposure with 3% niacinamide, and prevent future damage with broad spectrum SPF50+. Plus, the serum leaves the skin looking as juicy and radiant as can be – like you've just completed a 10-step skincare routine!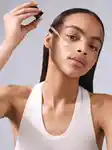 Best mineral/physical sunscreen
Few have been able to change the SPF game – and do it with style – quite like
Naked Sundays
. In less than a year, the brand has developed a cult following by focusing on high-performance, skin-loving SPF that's a pleasure to wear. Truly the 'sunscreen for sunscreen haters',
Naked Sundays' SPF50+ Collagen Glow 100% Mineral Sunscreen Perfecting Priming Lotion
uses zinc oxide to stop harmful rays in their tracks, while bathing skin in a cocktail of plumping collagen and watermelon extracts. Layer it over moisturiser to create a primed canvas for makeup.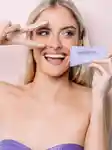 Best sunscreen for under makeup
MECCA Beauty Election winner, number-one bestselling SPF and receiver of more than a thousand five-star reviews,
MECCA COSMETICA To Save Face SPF50+ Superscreen
is the undisputed queen of chemical sunscreens. This luxe lotion has a featherlight matte finish, SPF50+ UVA and UVB protection and a soft floral scent. Plus, it was designed specifically for makeup wearers, leaving skin delightfully smooth and hydrated – ready and waiting to buff your foundation over the top.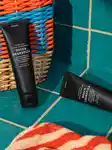 Best matte finish sunscreen
When glow is not the go – and a sleek, matte finish is all you want in an SPF (and makeup base),
MECCA MAX Screen Saver SPF30 Broad Spectrum Facial Sunscreen
is a true winner. Suitable for all skin types – even the sensitive, oily, blemish-prone types – this fragrance-free cream is infused with aloe vera, goji berry extract, vitamin E and chamomile to keep your skin cool and calm when the weather heats up. And you can bet it looks phenomenal under any makeup look (it was made by the makeup-obsessives at
MECCA MAX
, after all!).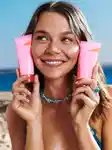 Best sunscreen spray for top ups
Perhaps the trickiest aspect of SPF is reapplication; unlike your Instant Pot, sun protection isn't a 'set-and-forget' operation! So, how to give your face a dose of the good stuff over your makeup without disrupting that oh-so-carefully-applied base? Keep UVA and UVB rays at bay with
Naked Sundays SPF50+ Hydrating Glow Mist
. Designed to be layered both under and over makeup, it provides SPF50+ as well as giving skin a burst of hydration and glow via hyaluronic acid and vitamin C-rich Kakadu plum. Seven spritzes, and you're good to go – no rubbing required.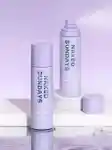 Best hydrating sunscreen
If dry, dehydrated skin is your key concern, you'll be notably impressed by a generous layer of
Go-To's Nifty Fifty Hydrating Sunscreen
. As well as its primary purpose of protecting your skin from UVA and UVB rays (and that it does, with next-gen SPF filters Tinosorb® S, Uvinul® A Plus, Uvinul® T150 and Tinosorb® A2B), this SPF50 – dreamt up by Zoë Foster Blake – is packed with powerful antioxidants and hydrators to feel delightfully light and fresh on the skin. It's super comfy, makes your skin look great on its own and under makeup, and offers great protection for a day on the run – and in the sun!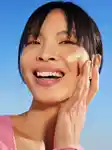 *Use wisely. Always check the label for directions. Avoid prolonged sun exposure and wear protective clothing, eyewear and a hat. Reapply as directed and ensure you don't apply too close to your eyes (pop on a pair of sunnies instead).