"I just drink lots of water" – it's a reflex utterance we're all too familiar with, suggesting that water intake itself is to thank for smooth, blemish-free skin. Not to discount our skin's need for hydration – it needs that H20 just as much as our insides do – but water won't transform your skin. Or will it?
Charlotte Tilbury seems to think so. The eponymous brand's latest introduction to its Magic Skin lineup, Charlotte's Magic Water Cream, sure does seem to tout the otherworldly properties of water – and comes just as our thirst for a lightweight yet hydrating formula is cresting.
At this early stage, I'd like to redact my earlier suggestion that water may ever be enough to maintain optimal skin quality (indulge my brief moment of literary trickery!). Just to clarify, Charlotte's Magic Water Cream goes way beyond the water that its name bears and is in fact infused with a great number of skin-loving ingredients. Think: niacinamide, which is great for balancing your skin and refining the appearance of pores, and a biopeptide complex that also helps with pores – as well as redness, texture and tone.
But most importantly, it promises to do what water alone can't. With its new Waterlock Fusion Technology™, the cream helps to awaken the skin's natural aquaporins – a very technical term for proteins that aid your skin in absorbing water – to ensure that the cream's hydrating powers can get to where they can be really effective (cue: bouncy, plump skin and a reduction in the lines caused by dehydration). Not only that, but the aforementioned skin tech also works to maintain moisture levels throughout your day and beyond – even reaching so far as 100 hours of hydration in testing!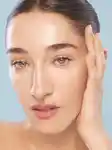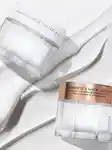 A very tempting proposition, I think you'd agree. As an already big-time proponent of a water cream or water-based moisturiser myself, I got my hands on a jar and raced straight home to wash away the day and witness the magic for myself. Now, I will say: when it comes to some water creams, my skin can drink up the hydration a little too quickly sometimes, only to be feeling thirsty in a matter of hours.
This certainly wasn't the case with Charlotte's Magic Water Cream. Cooling and light on the skin, it provided the familiarly luxurious sensation of the original Charlotte's Magic Cream, but with a more fluid feel, gliding onto the skin with the greatest of ease. Applying it liberally, but not excessively, I worked it into my skin, and it gleamed instantly! It coated my skin in hydration, and before I had long enough to worry that it would just sit on the surface of my skin, it absorbed – leaving behind no greasiness, just glowy, plump skin.
Naturally, I was curious about how the cream would perform during the day. The next morning, I capped off my regular skin routine with Charlotte's Magic Water Cream, following it up with my regular makeup formula of primer, foundation, blush and highlighter (which all applied like a dream atop the moisturiser!). Would it maintain the same hydration when facing the elements, I wondered – a sweat-inducing walk to work, drying office air, a face full of makeup and a full day lived. Well, I've been collecting skin compliments for days, so I think that in itself says it all!
If you've been waiting to take the water cream plunge, it's time to dive in – face first.