Introducing 'Behind The Beauty'; your key to the homes, boutiques, studios, cities, gardens, offices and labs that bring to life the world's most iconic beauty brands. Guided by the founders, formulators and leaders of the industry, we're taking you with us around the world for a private tour that explores the origins, inspirations and day-to-day operations of your beauty favourites.
In this instalment, we visit the home of radical pleasure: Flamingo Estate. A property almost beyond imagination – that also doubles as the home of founder Richard Christiansen – hidden high atop the hills of LA, the estate is full of lush orchards and dense gardens that have served as a backdrop for photoshoots and events for the likes of Billie Eilish, Hailey Bieber and Kendall Jenner, to name a few.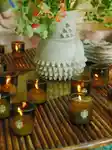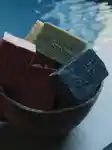 What started as a promise to maintain the estate and ensure its pleasure-seeking nature was preserved, has now blossomed into a brand that champions local farmers, slow ways of production and 'radical inconsistency' (notions almost unheard of in the beauty industry).
Here, we take a tour down the terracotta brick road, discovering Christiansen's light-filled oasis of a bathhouse, the soaps that started it all and the 'goat shed' where all the magic happens.