Bastide founder Frédéric Fekkai is telling the story of how he got his start in the beauty industry. "So even with hair, I came to that by fluke." Wait a minute… hair? Yes, hair; let's back up a bit.
Now one half of the dynamic duo behind this luxe French lifestyle brand, it was not so long ago that Fekkai tended to the hair of celebrities and New York's well-heeled. His salons were the places to see and be seen. When he wasn't gracing the red carpet at the Oscars or the Cannes Film Festival, rubbing shoulders with his A-list clientele (name-check: Meryl Streep, Tom Cruise, Charlize Theron, Nicole Kidman and more), he was running -and working - with the fashion crowd. Fekkai launched a successful haircare (and accessories) line and even had a blink-and-you'll-miss-it cameo in Zoolander (as Derek's hairdresser at the Derelicte show). What Vidal Sassoon was to the swinging '60s, Fekkai was to the supermodel era of the '90s.
After selling his namesake brand, the celebrity coiffeur recalibrated and decided to get back to his roots - his Provençal roots, that is. Alongside wife Shirin von Wulffen (formerly in public relations for YSL and Tom Ford), Fekkai acquired Côté Bastide in 2015, a sleepy home-and-body brand from his native Aix-en-Provence. Inspired by the artisans and small enterprises of the local region in France and focused on creating "a collection of products that help support a healthy home" the couple relaunched the brand as Bastide in 2017.
On a recent trip to Australia, we caught up with Fekkai to talk about careers, clean beauty - and ratatouille!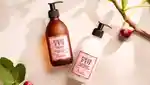 Before Bastide, you had a very successful career in hair. How did you get your start?
FF: "In Paris, I met someone who inspired me. She was quite famous for hair and makeup on movie sets and [for her] editorial work. I was modelling at the time... I never thought I would do hair. Then I realised I was good at it and, more importantly, I loved it. I think the most important thing in life is to really be passionate about something. When you find a passion it becomes your life; it becomes your talent. I got lucky on the way by meeting the right people and finding the right job."
Bastide is all around enhancing your home and your life, and therefore, your beauty
After Paris, you moved to New York when you were 21 – tell us about that time.
FF: "So I moved to New York and was supposed to start working in a salon, but it was behind in construction, so I took the opportunity to do more editorial. I was working for magazines, such as Vogue, Glamour and so on. That's how I made my name, if you will, by doing the supermodels of the time: Linda Evangelista, Cindy Crawford, Christy Turlington, Naomi Campbell and celebrities on the red carpet. That's how I started to have a successful clientele in the salons."
You had this renowned career in hair – how did that experience lead to launching Bastide?
FF: "It's interesting, because for years, even with FEKKAI [his haircare brand], I wanted to create a line of products that were oriented around wellbeing. And for some reason, it got delayed and delayed. Then, after I sold the brand, I said to myself, 'Why don't I do it?'. That's how Shirin encouraged me to buy Côté Bastide. And because of the way we lived, and started to discover this amazing lifestyle in Provence, we realised we could apply this theory to beauty: purposeful, artisanal, delicious - that's the basis of Bastide. It's all around enhancing your home and your life, and therefore, your beauty."
You're from Provence originally. Why is that region so special to you?
FF: "Sometimes we get lucky in life. Like the fact that I was born in Provence, which is a truly magnificent region. It's given us amazing inspiration about quality of life: the importance of taking time for yourself, to walk, to breathe, to bike, to go to the market.
"When you go to Provence, you go to the best butcher, the best baker, the best grocer; you pick them, as opposed to a one-stop shop. So we did the same with Bastide. We wanted to make sure it's from the best person for the liquid soap, the best person for the oil, for the creams... All are different individuals that are creating special, unique products for us.
"Above all, there's our first and only boutique, the Bastide flagship, on Rue d'Espariat in Aix. Bastide captures the art of living and the beauty of Provence in a bottle. The products are made by local artisans using traditional recipes and natural ingredients from the Provence terroir, and the scents will keep your Provence dreams vivid as you travel home."

What does your life look like there when you are with your family and in holiday mode?
FF: "We love to take the kids into town. It's a pedestrian town; there are no cars, so you can let the kids run around the streets and go to the markets. In my opinion, they're the most beautiful markets in the world, with all this amazing food, vegetables and flowers. The produce - olives, terrines, everything - are all handmade.
"We do a lot of cooking. I love cooking! Even the kids come and join us in the kitchen now, it's fun. A beautiful part of cooking is to go to our potager [French kitchen garden]. We have a fantastic vegetable garden, so we go and even the kids pick up the tomatoes and eggplants - it's great."
Do you have a signature dish?
"Ratatouille - I love ratatouille. It's healthy, it's colourful, it's tasty; it's a great meal."
And comes from your garden by the sounds of it…
FF: "Exactly. In fact, we purposely designed the vegetable garden to make ratatouille."
You split your time between New York and Provence – what do you miss most about Provence when you're not there?
FF: "You know, it's the light but also the pace. You can do as many things as you can do in New York, but at a better pace. You can actually enjoy things a little more because you're much more focused [and] you have time to do it. It's quiet - as opposed to New York - and you have good weather, which makes it easier. You're on a bicycle, you're walking - you can do things!"
If you had to pick one product from the entire line-up as your favourite, which one would it be?
FF: "Oh my god... I think the dry oil, the
Huile Seche Epatante Dry Oil Mist
. It's absolutely fantastic. I love spraying it, it feels great on the skin, smells great. It gives you just enough shine."