Sol de Janeiro, a fun-loving, Brazilian-inspired body care brand, wants to get to the bottom of your skin routine.
How many products do you own for your face? Your hair? Your hands? We're guessing it's a dizzying number. But what about for your derrière? If the global success of Sol de Janeiro, a Brazilian-themed
body care
brand, is any indication then bottom upkeep is the latest beauty ritual we all need to be considering. Suddenly, the rear view is in focus.
Follow your heart and go bold!
In the sensual world of Sol de Janeiro, which is inspired by the beaches of Rio where women of all shapes and sizes flaunt itsy-bitsy bikinis, the 'bum bum' (pronounced: boom boom) is the leading erogenous zone. The brand's hero product is its Brazilian Bum Bum Cream, which uses caffeine-rich guarana extract and a cocktail of cupuaçu butter, acai oil and coconut oil to perk up your best assets. The quickly-absorbed moisturiser, dreamily scented with a pistachio caramel fragrance, is like an escapist trip to a tropical island. You'll definitely want to apply it from top to toe.
Brand co-founder Heela Yang admits that focusing on the posterior is an unusual approach to body care. When she launched the golden-hued Sol de Janeiro three years ago, many people were confused by her thinking. "They told us not to make it yellow, they said the fragrance was too strong, and they thought luxury skincare for your butt was just weird," Yang says, on a visit to MECCA HQ in Melbourne. "But you should take risks with a start-up. Plus, we wanted it to be authentic. Brazil's favourite body part is the bottom," she adds. "That's why they have the smallest bikinis and the best jeans - there's even a Miss Bum Bum competition. They don't walk, they saunter."
In Brazil, I felt a sense of complete acceptance. It was so liberating.
Embrace the body you are in
Yang, a Korean-American who spent a year living in Brazil, was impressed with the way that locals embraced their bodies. Pregnant at the time, she arrived at the beach one day feeling self-conscious about the tiny Brazilian-style bikini her husband encouraged her to wear. Then she noticed how confident and carefree the locals appeared. "People were rubbing creams and oils on their bodies and hair, then jumping in the ocean and rubbing on something else. There was music and food, and no one cared that I was pregnant or Asian with pale skin. I felt a sense of complete acceptance. It was so liberating."
So, along with nutrient-rich Amazonian ingredients, designed to tone and tighten the skin, Sol de Janeiro aspires to bottle up some of that body positivity. "That day at the beach, I took off my cover and was in the least amount of clothing in my life, at the heaviest weight of my life," she says. "But that was the moment that I actually felt my sexiest and the most attractive."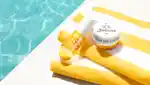 The full (and growing) lineup
Another noteworthy product of the range is a sultry, summery
Brazilian Crush Cheirosa 62 Perfume Mist
. It's designed to spritz on your body, hair and clothes. It's a Brazilian beauty rule to always smell 'cheirosa' (Portuguese for 'irresistible'), and this is the product that delivers. Our advice? Start with the Bum Bum and branch out to the rest. After all, Sol de Janeiro is the body-loving brand your body is going to love right back.