Big, bright, bold and beautiful – that's the Sol de Janeiro spirit.
The Brazilian-inspired body care brand has garnered an absolute cult following thanks to its ability to bottle, well, fun. From its bright, curvy packaging to its can't-get-enough scents, this is an approach to beauty that's all about one thing: celebrating joy.
Taking inspiration from the Carnaval festivities to the uniquely Brazilian take on body positivity (all about flaunting it, no matter your shape, size or colour), Sol de Janeiro packs a whole lot of punch into their colourful tubs of body creams and signature fragrance mists. But while experience ranks high on the Sol de Janeiro priority list, so too does efficacy. The brand's products might be something you pick up for the fun of it, but their high performance keeps beauty lovers coming back again and again.
The cherry on top? That would be the ethos behind this effervescent brand. The love infused into Sol de Janeiro's formulations radiates out into its ingredient lineup; they're vegan friendly, sustainably sourced and cruelty-free.
Overwhelmed with options? With an array of products and scents on offer, that's understandable, so we've nailed down our five favourites to clue you in on the best of Sol de Janeiro.
The signature Sol de Janeiro fragrance, their original Brazilian Crush Cheirosa 62 Perfume Mist opens with top notes of pistachio and almond, drying down to a salted caramel and vanilla base with a sultry hint of jasmine to round it out. Yes, you will be inhaling deeply all day while wearing it.
Fragrance is at the heart of the Sol de Janeiro offering, in honour of a Brazilian word that has no direct translation to English. 'Cheirosa,' which you'll see emblazoned on many of their products, loosely means 'to smell incredible'. And that's exactly what you'll do after a few spritzes of this moreish body spray. Lighter in intensity than a perfume, the mist nevertheless has impressive staying power. Sweet but not cloying, if you're a fan of caramelised popcorn and tropical beaches, this mist will hit the spot.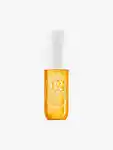 Pronounced 'boom boom', this fan-favourite, richly hydrating and super luscious cream is a mainstay on MECCA's bestseller list for good reason. Aside from the richness of cupuaçu butter – an Amazonian take on shea butter – and nourishing coconut oil for a hefty hit of replenishment, this buttery body cream is enriched with guarana to take it to another level. With five times more caffeine than coffee, this is another Amazonian native ingredient that makes Bum Bum so coveted. Guarana stimulates circulation which can lead to a firming effect on the skin's surface. The bottom line (pun intended) is smoother-looking skin that's soft to the touch and smells amazing. Infused with the original Sol de Janeiro scent with notes of pistachio, salted caramel and vanilla, you'll barely be able to resist yourself.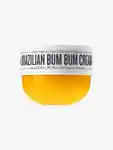 If your fragrance preference leans floral, fruity, fresh and feminine, then Sol de Janeiro's Brazilian Crush Cheirosa 68 Perfume Mist is your sweet dream (emphasis on sweet) come true. Like the other fragrance mists in the range it's designed for hair and body so it's lightweight but addictive, and layers beautifully with other Sol de Janeiro products if you want to get more longevity out of the scent.
Inspired by a vision of a lush Brazilian garden by the ocean, Cheirosa 68 is poppy pink in colour and in attitude. Reminiscent of fairy floss and bubble gum, it's surprisingly subtle and wearable thanks to notes of sun musk and ocean spray to balance out the sugar.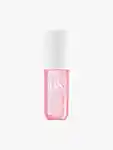 Fallen head over heels for Cheirosa 68? We can't blame you one little bit. And there's more where that came from. If you want to double down on the scent, Beija Flor Elasti-Cream is a luxe, elasticity-boosting body cream that's infused with the same fruity, floral fragrance.
Scent aside, this is a richly hydrating formulation that goes above and beyond in nourishing the skin. It also delivers a plant-derived collagen boost, combating the appearance of crepiness (making it great for areas with thinner skin like the chest and neck). And with cold-pressed cacay oil, which mimics the effects of retinol without the sun-sensitive side effects, you'll also give your skin a jump-start on the cellular renewal process. For rich hydration without the greasy aftermath, Beija Flor is a no-brainer.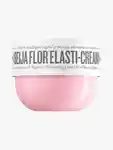 AHA-infused moisturisers have to be one of the most ingenious developments in the world of exfoliation. Following on from your physical or chemical exfoliation routine, an AHA body cream promotes continued cell turnover while delivering hydration and nourishment to your skin. And Sol de Janeiro's Bom Dia Bright Cream cream does just that, while smelling typically heavenly and adding a brightening element that's the cherry on top.
If you prefer a more sultry, evening-style fragrance, you'll love Bom Dia's Cheirosa 40 scent which is a little darker and more full-bodied. With warm notes of black amber plum, Brazilian orchid and vanilla woods, it's a fruity-yet-sexy take that has a little more bite.
And in terms of efficacy, this cream is a real multitasker, amping up the glow from all angles. Slough away skin cells and build up with mango and banana-derived AHA fruit enzymes, while vitamin C ester combats free radicals and pumps up the brightness for visible results. Willow bark extract rounds out the formula with its soothing anti-inflammatory properties that prevent ingrown hairs and keep pores clear. It's safe to say this one's the ultimate glow-getter!