Every now and then, a brand appears on the scene that looks like nothing else. In this case, that one-off entity is Officine Universelle Buly.
The fastidious French company creates highly decorative, highly desirable soaps, scented oils, candles, toothpastes, perfumes and grooming accessories in the mode of a 19th century Parisian apothecary. Arrayed with gilt embossing, religious iconography and sinuous snakes, its wares are the complete opposite of the coolly minimal products that have become the norm in beauty. Instead,
Buly
creates Napoleonic products with an ironic twist. In Australia for the launch of the brand at MECCA, founder Ramdane Touhami explained his unique approach to beauty to The Memo. "I call it retro futurism," says Touhami, adding, "It's old but with modern touches."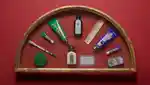 Touhami is a ball of energy who speaks at such a rapid clip it can be hard to keep up with him. The day we meet, he's sipping apple juice and animatedly recounting the steps that led him and wife/business partner Victoire de Taillac-Touhami to hatching Buly five years ago. "We're the opposite of cool; we don't want to be cool. We're classic," he says in fiery bursts.
Touhami possesses an incredible eye mirrored in the brand's 20 emporiums in Paris, Tokyo, Seoul and San Francisco (among other cities). Fitted out with oak cabinetry, glass cloches, vintage accessories and teeming with more than 800 products, they project an impossibly romantic version of Paris. Touhami says, "When you go to a Buly store, it's exactly as you would expect." He explains, "It's this old shop with calligraphy and music; you are in a fantasy. I want hyperrealism."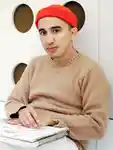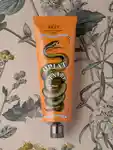 Customers will discover a tightly edited curation of wondrous pieces displayed in custom-made cabinets of curiosity. Unsurprisingly given its nostalgic vibe, the brand was inspired by a real-life historical figure, Jean-Pierre Bully, a master perfumer and cosmetician from the 1800s. "He was a genius," says Touhami, who revived the dormant line (and dropped a consonant in the process). Buly combines old-school beauty secrets with modern-day advancements, as well as potent ingredients plucked from about 50 countries around the world (including tea tree oil and clays from Australia).
We're the opposite of cool; we don't want to be cool. We're classic
Plus, they have focus on simple ingredient lists. Devoid of alcohol, Buly's water-based
fragrances
could be a good option for those who experience sensitivity when it comes to synthetic ingredients. "It's extremely complicated to mix oil and water and make sure they stay together," says Touhami, in reference to the delicate perfumes, explaining, "It's basically a vinaigrette!" Can I add it to salad? "Well, put it on your skin first, then your salad," he responds playfully [editor's note: definitely do not add perfume to your salad!]. Similarly, Buly candles are free of paraffin, the toothpastes are sans fluoride and its cleansers avoid parabens. There are also more whimsical notions, such as porous stones on which you pour fragrant concentrates and scented matches for deodorising small spaces.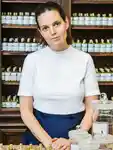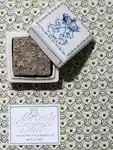 Buly could only stem from a mind as sharp as Touhami's. Born to a Moroccan-French apple picker father and homemaker mother, he dropped out of school at 17 to create a streetwear brand. He went on to find success in fashion design, retail and brand building - most recently, he revived the French candle maker Cire Trudon. Now, he flits around the globe in search of rare discoveries he can adapt for Buly: the Atlas Mountains for incense, Greece for sponges and Russia for a stone rumoured to have health benefits - and that's just in recent months! What spurs him? "Not being bored," he says.
In 1999, he met de Taillac-Touhami, a French aristocrat and beauty expert. The couple have three children and live in a vibrant two-floor apartment in the Left Bank. At work, they divide and conquer. She looks after product development, while he focuses on creative matters. Touhami has a habit of juggling myriad projects. When he discovers a small-scale company - a soap manufacturer in Normandy, a printer in Lausanne or a plaster maker in Paris - he invests in it or acquires it outright. His rationale is more poetic than mercenary. Touhami is intent on preserving craftsmanship; it's the subject of a forthcoming docuseries he is filming for Netflix. "When I make a little money, I don't buy cars - I buy companies," he says, with a puckish grin. "I'm trying to save these things," he proclaims. At its heart, Buly is an ode to artisanal beauty. It's the perfect addition to your bathroom if you're looking for a touch of old-school charm. This one-of-a-kind range isn't made to be hidden away in the depths of your cupboard; instead, give it pride of place sink-side and let it be admired by all.