MECCA Collectiva is our inspiring set of tastemakers from around the globe. From skincare routines to makeup edits, browse their MECCA curations.
For the beauty obsessives among us, it's not unusual for skincare recommendations to be a regular topic of conversation. Whether it's a serum recommendation shared over brunch or a cult cream debated mid-Pilates class, sharing beauty finds is par for the course. And New Zealand-born, LA-based Nike global trainer Kirsty Godso is no exception – it's just that her friends happen to be among the world's most elite models, actors and performers! A standard gym sesh might see Godso working with clients like supermodel Kaia Gerber (Godso is responsible for getting Gerber hooked on Allies of Skin), singer Olivia Rodrigo or dancer Maddie Ziegler.
Read on to find out why Godso counts skincare as a vital part of her overall wellness routine, why she's a fan of icing her face and exactly which products this trainer keeps in her beauty bag to maintain a visage to rival that of her superstar clients.
Fresh-faced beauty
"In my line of work, I think it's important to always look fresh and have healthy-looking skin," Godso tells MECCA. "For me, that doesn't mean skin covered in makeup. I usually start work pretty early in the morning, so I love to focus on skincare that gives me a fresh glow and makes me look more awake than I sometimes am – even though I am a morning person!"
Given that she's training at an elite level, breathability is important too. "I love being able to sweat freely and not worry that there is skincare or makeup clogging my pores, so I'm pretty fussy about the products I choose. I definitely put them to the test in some of my workouts," she explains. If you're wondering exactly which products pass the test, don't worry – Godso is only too happy to share! Her favourites include ranges like Sunday Riley, the aptly named FaceGym and, of course, Allies of Skin.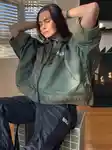 Her best skincare advice is a mantra we can all agree to: "Wear sunscreen! My best friend is a makeup artist [editor's note: that's Nikki DeRoest] and she got me into the habit of being more diligent with sunscreen – and wow, it makes a difference!" Godso's pick?
Naked Sundays'
range of face and body sunscreens.
I love to focus on skincare that gives me a fresh glow and makes me look more awake than I sometimes am.
Keep it regular
Just like her dedication to fitness, routine is absolutely essential to her approach to skincare, too. Godso tells us: "I have routines in place the same way I do with other areas of my wellness like fitness and nutrition, to make sure I keep my skin happy. I always leave time for a morning, post-workout and evening skincare refresh (even if it's quick). Hydration is super important to me, and a lot of my favourite products are serums and moisturisers that give a healthy-looking natural glow to the skin." (If you want to know her favourites, we've got you covered – scroll to the bottom for her complete routine!)
While she never misses a foam rolling or stretching session, Godso tries to apply the same philosophy to her skin. "I wish I was better at using gua sha, but I do ice my face every morning. That always feels really good and definitely helps to depuff! I see my facialist approximately every six weeks – we don't do any aggressive treatments, it's mostly about hydration as I'm naturally dry and so is LA. You have to be on top of your hydration – both liquids and skincare. I lived in New York for 5 years, which was much more humid and very much has seasons, so it's been interesting to see how my skin is in both places."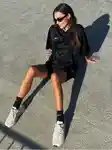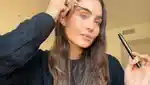 If I want a few extra steps for night time, I'll add mascara and some colour to my lips.
Watch this space
"I'm working on a lot of exciting things in the wellness space," she tells us. That includes her ongoing work with Nike, building out her own online fitness platform, Pyrogirls, and continuing to grow her own brand of New Zealand whey protein isolate,
Made Of
. Oh, and then there's the business of "regularly crushing workouts with my incredible clients." Every day is different, but that's something Godso is happy about. "I love to keep my days busy and varied and feel really excited about all the momentum that 2023 is bringing."
"I'm obsessed with reading – next on my reading list is Breath by James Nestor. I'll be watching the new season of Drive To Survive and I can't wait for this year's Formula 1 season! And I love listening to podcasts – I'm always jumping between my favourites: Huberman Lab, On Purpose with Jay Shetty and The Peter Attia Drive. And when it comes to food, I've been really getting into cooking more and this year would love to master making shakshuka."

Kirsty godso's skincare routine