Meet Nadia Hernández, MECCA's 2022 Holiday artist
January 1 | 40 minute listen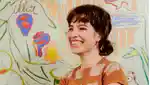 Hosted By Kate Blythe
Originally published on | October 26
Welcome back to MECCA Talks, your access all areas pass to the beauty, business, and lifestyle experts we call our community.
As part of our support for women in the arts and through our partnership with the National Gallery of Victoria, each year MECCA partners with an Australian-based female artist to design beautifully festive, limited-edition packaging for the holiday period, while also contributing to the NGV's acquisition of a major piece of their work. In today's episode of MECCA Talks, Kate is joined by our 2022 artist, Nadia Hernández.
Born in Mérida, Venezuela and currently living and working in Melbourne, Nadia expresses her experience as a Venezuelan woman living far from home through various creative disciplines and mediums. Bursting with colour and energy, her work explores political narratives and family stories while celebrating culture, identity and togetherness with radiating positivity. We're so honoured to feature it on this year's packaging! Hit play to hear Nadia's incredible story.