Unboxing our Beauty-full Friday sets + our best Holiday gifting tips!
January 1 | 34 minute listen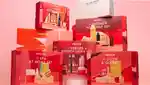 Hosted By Julia Zigan, Jen Horsley & Tony Baumann
Originally published on | November 17
Welcome back to MECCA Talks, your access all areas pass to the beauty, business, and lifestyle experts we call our community.
In this episode, Kate hands over the mic to MECCA's head of artistry, Jen Horsley, retail trade manager, Julia Zigan and head of fabulosity, Tony Baumann, to unbox three of the hotly anticipated and super limited-edition sets curated by team MECCA for Beauty-full Friday. Plus, the trio share their top tips – and wishlist picks – for gifting MECCA this holiday season. Hit play to find out which products made it into our edits, and how to best utilise them in your routine!