Natalie Massenet revolutionised fashion – now, she's shaping the future of beauty
January 1 | 58 minute listen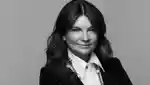 Hosted By Kate Blythe & Zara Wong
Originally published on | August 10
Welcome back to MECCA Talks, your access all areas pass to the beauty, business, and lifestyle experts we call our community.
In this episode, Kate and Zara are joined by Net-A-Porter founder, Imaginary Ventures founding partner and world-leading entrepreneur, Natalie Massenet.
From honing her focus on the future (from her teens!) to building all-star teams, fostering unparalleled corporate culture and now, tapping into the 'creator economy', this conversation gives insight into the intelligence and razor-sharp instincts that resulted in Natalie being appointed Dame Commander of the Order of the British Empire for her contributions to the fashion and retail industries.
Listen as Natalie touches on her time at Net-A-Porter, Farfetch and the British Fashion Council, and shares how she's helping to amplify the next generation of household beauty, fashion and lifestyle brands (including the likes of SKIMS, Kosas, Nécessaire, Reformation, Everlane and Westman Atelier) through Imaginary Ventures, the venture capital firm she co-partners.
If you're of entrepreneurial spirit, a brand devotee or a shopaholic, this is an episode not to be missed!