Elevating and empowering women has long been a part of MECCA's continuing mission to achieve gender equality across all arenas.
In partnership with the National Gallery of Victoria, we are championing the creative women changing the design world through the Women in Design Commission – a major ongoing series that invites internationally renowned female designers and architects to create new and important work for the NGV Collection.
Over five years, a commissioned designer will be revealed annually at an event coinciding with International Women's Day on March 8, with the final work unveiled towards the end of the year. Our partnership with the NGV – the first and only of its kind in Australia – will culminate in a major exhibition.
This year, we are proud to announce London-based designer Bethan Laura Wood as the recipient of the 2023 MECCA x NGV Women in Design Commission. Wood is the second in the annual commission series (to continue over a five-year period), which has been made possible by a significant contribution from MECCA's social change program, M-POWER, which champions equality and opportunity for women and girls – including elevating women in art and design.
Since establishing her eponymous design studio in 2009, Wood's radical approach to materiality, colour and pattern has garnered a cult following. Fascinated with the cultural and historical significance of surface design and colour in domestic space and the interior, she explores unlikely combinations of colour and shape, developing unique timber veneers, material composites and textiles for furniture, lighting, objects, installations and accessories.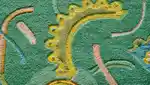 Wood has presented work at Design Miami and sketch London, as well as having work held in permanent collections across the world, including the Art Institute of Chicago, the San Francisco Museum of Modern Art and the Victoria and Albert Museum.
Tony Ellwood AM, the director of the NGV, said: "The NGV is delighted to announce Bethan Laura Wood as the recipient of the 2023 MECCA x NGV Women in Design Commission, an inspiring multidisciplinary designer who embraces an artistic agenda fuelled by experimentation to create unique and flamboyant furniture, objects, textile and interior designs.
"The NGV is grateful to MECCA for their visionary support to profile the practices of leading female designers and to enrich the NGV Collection for current and future generations to admire."
Jo Horgan, founder and co-CEO of MECCA and an NGV Foundation board member, said: "The enormous talent and contribution of designers like Bethan remind us how important it is to ensure that women are represented not just in design schools, but in studios, galleries and leadership positions in the design industry."
She added, "Bethan's multidisciplinary approach also reminds us that creativity, diverse thinking and curiosity can achieve remarkable things, and helps us to see the world in new ways. MECCA M-POWER is all about championing equality and opportunity for women and girls, and we're so delighted to be able to help bring Bethan's work to new audiences and inspire women and girls in Australia to dream big."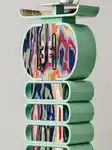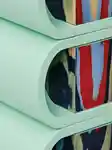 Opening in December 2023, Wood's installation for the MECCA x NGV Women in Design Commission ingeniously combines a range of elements, including furniture, textiles and scenography, to delve into the gendered history of education and learning.
While her style is often described as 'maximalist', Wood's creative work is layered with meaning, designed to engage on an emotional and intellectual level. Wood's installation at the NGV will draw inspiration from diverse British 18th and 19th century references, including the kaleidoscope, Regency furniture and the women's intellectual network known as the Bluestockings. Her work examines the history of education in the UK and how gender has played a role in the acquisition and sharing of knowledge over time.
Wood's striking and engaging work will include a large circular bookcase made with highly decorative bespoke timber veneers and a visually arresting hexagonal carpet composed of kaleidoscopic patterns generated from tessellated wood grain.
Said Wood, "I am honoured to produce new works which will become a permanent addition to the NGV Collection. This commission, supported by MECCA, will allow deeper exploration into my practice of material investigations and offers a unique opportunity to present my contemporary design pieces in conversation with historical works from the NGV Collection."
Mexican architect Tatiana Bilbao presented the inaugural MECCA x NGV Women in Design Commission in 2022, an installation titled 'La ropa sucia se lava en casa (Dirty clothes are washed at home)' that drew on the notion of gendered work and how architecture that fosters community can enhance the function of society. Bilbao's work is on display at NGV International until March 19, 2023. (Editor's note: see how Tatiana Bilbao brought her installation to life here.)
The 2023 MECCA x NGV Women in Design Commission will be on display from December 2023 – April 2024 at the NGV International, 180 St Kilda Road, Melbourne, with free entry. Further information is available via the NGV website.
Learn more about how MECCA is advancing gender equality through the education of women and girls here.