Beauty and art go hand in hand at MECCA, inspiring so much of what we do.
Since 2015, MECCA has combined this love for art with our commitment to empowering women and supporting emerging talent. Each year, MECCA celebrates a female artist and contributes towards the acquisition of a piece of their work to be displayed at the National Gallery of Victoria. This piece of art is then also used to create our coveted Holiday packaging. Here's a walk down memory lane of all the artists we have collaborated with thus far.
2015
The first artist MECCA collaborated with was
Clare Ellison Jakes
. Ellison Jakes created a vibrant piece that celebrates the art of giving. With a focus on colour, movement, texture and materiality, Clare's aesthetic beautifully brought to life the spirit, energy and magic of a MECCA-filled holidays.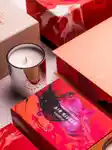 2016
Perth-based artist Tanya Schultz of
Pip & Pop
created a brightly coloured, kaleidoscopic artwork that captured the spirit and celebration of our festive season. Schultz was inspired by the ancient Japanese tradition of gifting temari balls to children – parents and grandparents would use threads of old kimonos to create beautiful, hand embroidered balls.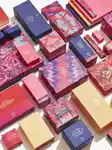 2017
MECCA's 2017 Holiday packaging was designed by Lardil and Kayardild artist
Claudia Moodoonuthi
. The inspiration behind the design was based on Moodoonuthi's childhood home – she would take notice of every colour in the ground and soil. The Holiday packaging design was bright and rich in both colour and creative spirit.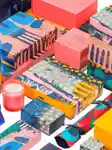 2018
In 2018, Perth-based artist
Rebecca Baumann
"painted with light" to create a series of joyful, ethereal and colourful artworks that perfectly capture the spirit of the holiday season. The packaging was laminated in a holographic film so it would reflect gentle rainbows when caught in the sun.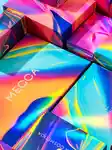 2019
Many of you may remember the dreamy textile art that was featured on 2019's Holiday packaging. The artist behind this creation was former jewellery designer
Tammy Kanat
. Kanat's art pieces are hypnotic, with intricate patterns of bright wool that wind around in a seemingly infinite web of colour.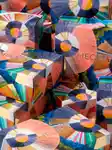 2020
For 2020's Holiday packaging, MECCA collaborated with Chinese-Australian artist
Louise Zhang
. Figurative yet fantastical, Zhang's multidisciplinary practice draws upon her modern identity and emotions, as well as traditional Chinese mythology and botany. Her captivating use of colour graced our limited-edition Holiday packaging with a fantastical swirl.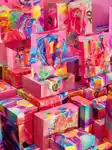 2021
In 2021, our Holiday packaging was inspired in part by the vibrancy and potency of the colour red. Southern Kaantju and Umpila artist
Naomi Hobson
used the intensity of the previous two years to inform her design, resulting in a vibrant, complex artwork that was as bold as it was bright.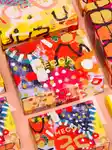 2022
Venezuelan-born artist
Nadia Hernández
is the creator of 2022's explosively bright Holiday packaging. Inspired by her diasporic experience as a Latina woman living between Sydney and Melbourne, her work is multidisciplinary and multifaceted. True to Hernández's joyful style, this collaboration is rooted in culture and colour and radiates positivity.