If you've popped into a MECCA store lately, you're unlikely to have missed the colourful shelves that hold Morphe.
With its rainbow palettes of standout brights and irresistible shades, it's as attention-grabbing as it is industry-shaking.
Originally created as a suite of professional-level brushes, Morphe was born for creative, bold and boundary-breaking artistry. And with their catchphrase 'blend the rules', that's exactly what they do. Eyeshadows, lip colours, blushes and more soon followed in their collection and the demand only grows, with celebrity collabs aplenty and a drove of die-hard fans.
If you're new to colour and vibrant, vivid looks, never fear – there's plenty to love from Morphe in more everyday, wearable looks too. From tools that will let your products shine, to the setting mist that pulls it all together, these are the top five Morphe products on MECCA's list.
Whether you're building up your makeup kit from ground zero, or you're levelling up what you're currently working with, this five piece brush kit offers the ultimate bang for your buck. It's the consummate all-rounder, covering all bases in useability. Designed for use by amateurs and makeup professionals alike, you've got all angles covered in this does-it-all set.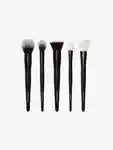 If you're going to do beautiful makeup, the last thing you want is to have it sliding off your face by lunch time. This micro-fine continuous setting spray is here to make sure that doesn't happen, thanks to a simple two-step process.
Firstly, use it as a primer to prep your skin for makeup application. The mist is superfine and air-powered, laying a gentle layer of refreshing ingredients to prime skin for the next steps. Hydrating glycerin and cooling and soothing papaya and cucumber extracts ensure your skin is ready to roll before the next step.
Once you've applied your makeup, use the setting mist as the final touch to lock it in place for a dewy, stay all day coverage.
And as a bonus step, if you want to amp up the pigment in your shadows or liners, spray the setting mist directly on to your makeup brush before picking up your product. The mist will intensify colour as it glides on like a liquid.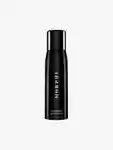 If you love luminous, dewy, glowy coverage, say hello to Hint Hint Skin Tint. A sheer, buildable foundation that is perfect for the fan of the bare-faced and natural look, this is an everyday go-to that won't leave your pores feeling clogged.
It may be a lightweight formula, but that doesn't mean it won't last the distance. Promising 16-hour wear, Hint Hint Skin Tint is water, sweat and transfer resistant, so you can keep that natural glow going no matter what's on the agenda. And because it's non-comedogenic, you won't have to suffer the consequences of wearing it day in, day out. Skin can breathe under this hydrating and natural foundation, for that 'your skin but better' finish.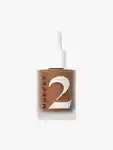 Morphe's eight-piece brush set in rose gold brings some sparkle to any occasion. Beautifully soft, high-quality and cruelty-free, this brush collection offers an elevated take on the must-have brushes in anyone's collection (foundation, powder, blush and highlighter), along with a set of fluffy eyeshadow brushes and a double-ended angled liner/spoolie brush.
Housed in a very sleek rose gold cylinder tin, it's the extended collection ideal for anyone who loves rose gold, a glass of rosé or a perfectly executed cut-crease. And with their soft bristles and range of shapes, these brushes make blending a breeze.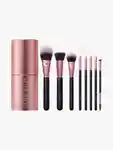 There's nothing boring about these neutrals. The ultimate eyeshadow palette for taking you from day to night, there's something for everyone in this expertly curated selection of can't-live-without shades. Morphe's original blockbuster success, this new iteration of the supernatural glow palette is as satisfyingly pigmented as ever. With the ideal balance between wearable, matte shades and elevated shimmers, there's not a smoky eye or sheer, natural look you won't be able to pull off.
Bonus? With the versatile range of colours, you can double dip this palette. Apply the pinks to cheeks for a soft blush and use the lighter shimmer shades for a pop of highlighter. The ultimate multitasker!