How do you follow up a beloved lip gloss meets oil meets balm with 1.3 million views on TikTok and fans like Drew Barrymore? By taking that glossy, nourishing formula, adding extra pigment, and putting it in a stick form for even more convenience. Introducing: the new Kosas Wet Stick Moisture Lip Shine.
When it comes to beauty, it's the follow-up that establishes a brand's place in our beauty bags (and hearts) for years to come. It's something that LA-born brand Kosas seems to have quite a knack for. Their cult favourites have come hard and fast, followed closely by additions to the range that somehow manage to be just as good as their predecessors. Think: the Revealer Concealer and it's later-introduced counterpart, the Revealer Skin Improving Foundation SPF 25.

And now, it's time to refresh their lip lineup. The Wet Lip Oil Plumping Treatment Gloss was everywhere last year, beloved for its hydrating, plumping formula that takes the best parts of a lip gloss, a lip oil and a lip balm, blending them together for a formula unlike any other – until now...
The next big thing from Kosas? The Wet Stick Moisture Lip Shine. This time, we've got that same underpinning of balm meets glossiness, with the extra pigment payoff (and easy swipe-on form) of a lipstick. It's an embodiment of a growing tendency to expect more and more from our beauty products. Gone are the matte, drying lipsticks of the 2010s – skincare-makeup hybrids have made their way to our lips, with new requirements for lip formulas that are pigmented, moisturising and plumping, all at once. And this new launch ticks all the boxes.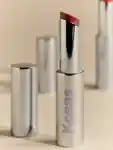 First, the shine. Glossy lips have once again become a makeup mainstay in recent years, dominating social media, red carpets and runways. While this formula might not deliver the glass-like shine of the Wet Lip Oil Plumping Treatment Gloss, it does have just the right amount of sheen and moisture to be definitively 'glossy' – with a lightweight, comfortable, opposite-of-sticky feeling that you would be forgiven for forgetting you're wearing. Added bonus: its weightless natures means it resists lip glosses fatal flaw and actually doesn't stick to your hair with every gust of wind.

Next, the pigment – this launch follows another trend we've been loving lately: pigment-packed glosses that create a somewhat vinyl-like effect on lips. No longer is gloss just a clear, sheer layer to be worn on top of another lip product. Instead, that shine is combined with the colour of a lipstick, for a complete lip look in one swipe. As a certified lazy girl, I am always looking to minimise the steps in my beauty routine – and in this case, the careful combination of colour and gloss means you can definitely get away without using a lip liner. These hues are intended to suit a wide variety of skin tones and shades, mostly in natural-looking pinks, browns and red that deliver a your-lips-but-better kind of finish.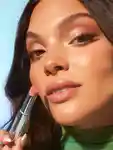 Kensington wears Baby Rose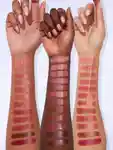 From top to bottom: Skinny Dip, Baby Rose, Heatwave, Malibu, Hot Beach, Papaya Treat, 100 Degrees, Sunset Simmer, Island High, Tropic Bliss, Cinnamon Spritz, Bikini Blaze
And finally, the nourishment. Kosas touts the Wet Stick Moisture Lip Shine as "Next-level lip care drenched in casual, sexy colour" – an incredibly accurate description. Designed to step in as a lip balm when needed, the active-packed formula delivers much-needed hydration to lips with every swipe, preventing lips for drying out. Like the rest of Kosas' range, it's powered by the best of skincare, with an ingredients list that could easily be mistaken for your favourite serum.
The potent ingredients you'll find inside...
Now, given its balmy, glossy nature, this one isn't going to last through eight hours of work or a greasy meal. But, after running to my nearest MECCA to give these a go as soon as they came out (in the name of research, of course) and nabbing the exact shade I had my eyes on ('Island High' – a warm, roasted red) I was surprised to find out just how much colour was imparted onto my lips – and remained for a good hour or so afterwards. While the glossiness wore off, a hint of tint was left on my lips, so as not to leave me feeling naked.

These are the perfect on-the-go lipsticks that are just about guaranteed to go with every look and can be swiped on in an instant without the need for a mirror. And even better, they can fill the role of lip balm as well, acting as a true all-in-one product – my favourite kind of beauty. Plus, the sleek metallic packaging has one of those ultra-satisfying magnetic clicks that ensures you don't end up smudging it all around your bag (where you will inevitably end up keeping it at all times, so as to never be without it).

I'm not the only one obsessed – TikTok has been going absolutely wild, with @jay0mg's video using the shade 'Sunset Simmer' sending the internet into a tailspin (and currently sitting at over 428,000 likes). So, what are you waiting for? Find the shade (or five) that fits you and prepare for this to be your new can't-live-without-it lip product.