Kosas is arguably one of the coolest brands on the purpose-led beauty scene.
Gwyneth Paltrow, Hailey Bieber and Olivia Wilde are just a few devoted fans – and the brain behind Kosas is just as fabulous.
Sheena Yaitanes has a long and varied career. The LA-based chemist studied biology and business, and dabbled in acting and fine art before launching Kosas from her kitchen table in 2015. Drawing on her artistic background and colour expertise, she created eight shades of lipstick made to match different skin tones.
Named for the yoga philosophy of koshas, which teaches that there are five interconnected layers in every human body – physical, energetic, mental, intellectual and soul – the brand lives by the credo to cultivate 'beauty on every level'.
I believe makeup should be flattering, easy to use, and good for your skin.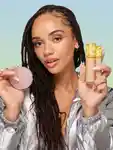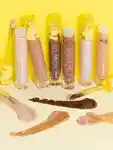 Sheena Yaitanes is an artist and a chemist who brings her deep knowledge of colour theory to wearable makeup shades that flatter every skin tone. Yaitanes uses her scientific background to create innovative formulas utilising botanical ingredients and nixing any unnecessary chemicals. "My search for the perfect lipstick started when I was 12 and by college, I was studying organic chemistry so that I could formulate my own. After earning my degrees, I apprenticed with a painter to better understand colour," says Yaitanes. Her ethos? "I believe
makeup
should be flattering, easy to use, and good for your skin. It should be comfortable, allow you to express yourself and make you feel your best."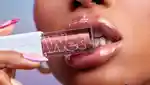 Kosas is a collection of comfortable and wearable shades for the skin,
lips
,
eyes
and
cheeks
, that draw upon colours naturally found in the complexion to enhance your natural beauty. "I believe the skin is a canvas, so we approach colour like an artist, actualising shades so that they work beautifully across a range of skin tones," says Yaitanes. "Our shade selection represents the ideal colours that every woman should have within reach."
Kosas was born after Yaitanes was searching for two things she couldn't find: flattering colour and comfortable formulas. "I would wade through hundreds of lipsticks to find some combo that could just look natural and pretty, and then I'd end up hating the feel, the texture, the weight and the taste," she recalls. "The puzzle I was trying to solve [was] lipstick that feels like nothing, looks like everything and stays on for a long time."
The ultra-luxe formulas are infused with a host of skin-loving and glow-granting ingredients (including rice bran, rosemary extract, moringa oil and jojoba oil), with products like the Kosas' Color + Light: Crème Blush and Highlighter duos blending seamlessly into skin, mimicking your natural undertones for an effortless flush and glow. Dab it on with fingertips and build as desired for a gorgeous, dewy finish. Like a kiss from a rose, the Weightless Lipstick in 'Rosewater' is deliciously hydrating, and as wearable as your favourite white tee. It enhances your natural lip colour with a your-lips-but-better finish.

The terms 'conscious' and 'purpose-led' are frequently used in the beauty industry, but for Yaitanes, there is no singular definition – but rather they describe the approach a brand takes: "It is when you deliberately create a philosophy, or a 'North Star' of thinking, and then you make decisions based on that philosophy," she explains. "For Kosas, it's about creating a product that takes comfort and ease into account, looks flattering and helps people feel like their favourite version of themselves, is made with ingredients that harness the power of nature and also creates measurable positive change in your skin. When you're purpose-led, you have a lot to think about!"