Herbario is a plant-derived brand founded by Italian-born Vito Cozza and Valli Shubere in 1977, it's been one of Australia's best-kept skin secrets for decades.
Herbario's skincare formulas are developed at their waitlist-worthy clinic on Chapel Street in Melbourne, with products inspired by traditional European herbal medicine.
Discovering that plants that are good for us on the inside can also be turned into formulations used topically, underpins their holistic philosophy. Here, the co-founders talk through their top five formulas, designed for a variety of skin concerns and benefits. Whether you have an oily complexion or dry-looking skin, you'll find something to help you with your skin goals.
Cozza reveals his top two products would be the Detox Cleansing Oil and Detox Cleansing Powder. And luckily, you can dip your toes into the Herbario pool and try this exact duo with the conveniently carry on-sized Detox Cleansing Powder and Oil Travel Pack. While this might be cheating the top five a little bit, can you blame us when they pair together so well to double cleanse?
"There's no way you can nourish the skin if you're carrying yesterday's dead skin cells on there," Shubere explains. Both cleansers contain the herbs marshmallow, echinacea and lavender which work to remove traces of makeup, dirt and grime, all while soothing and hydrating skin.
A tip from Shubere: create a mask mixture in with the oil, powder and small amount of water. Leaving the herbs on the skin for a short time, rather than rinsing immediately, allows them time to get to work.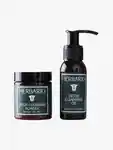 Follow up your double cleanse with the ultra-gentle Hydrating Regen Toner. Spray over the face and neck and gently press into skin. This mildly exfoliating toner helps to bring a serious glow to dry or unbalanced complexions. Rose, horsetail, rosehip and vitamin E combine to leave your skin feeling both invigorated and hydrated. "I like to use the Regen Toner in the morning to tone and hydrate," says Cozza.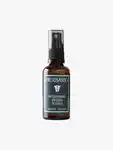 Next up is Shubere's most-loved product: The Moisturising Regenerative Serum. "When I apply it on somebody, there's an immediate sense of happiness of the skin," says the herbalist, whose facial treatments are legendary. Formulated with omega-6 fatty acids and vitamin E, this serum is deeply moisturising and leaves skin feeling soft, making it a mainstay in the clinic. It also settles quickly so there isn't a 'film' sitting on the skin at the end of the day.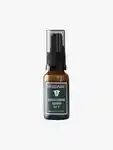 This is Cozza's desert island product. "This is my skin soldier helping to protect and nourish the skin," he says. This formula is packed with plant-derived ingredients like echinacea, myrrh, calendula and ginger to help battle blemishes, soothe irritation and fade the appearance of uneven skin tone . He recommends those with oily or irritated skin add a few drops into their cleanser, serum or balm to supercharge the formula. Or, apply a small amount to a spot or blemish.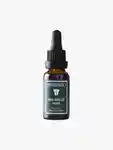 Finally, lock in all the goodness with the Moisturising Rescue Balm. When we think of balms, we normally think of heavy, oily formulas, but this one is made for those with oily or blemish-prone skin. The lightweight moisturiser (formulated with herbal heroes echinacea, calendula and myrrh) brings the glow factor while soothing the appearance of blemishes and irritation. Use it day and night to keep skin moisturised (because yes, even oily skin needs moisturising!).