Ever looked at your moisturiser's (or serum's, or toner's) ingredient list and felt engulfed in a wave of confusion?
MECCApedia is here to decode the science, unravel the jargon and give you the knowledge to understand the actives you're slathering on morning and night. Let your skincare education commence!
If you down a glass of orange juice on the regular, or are diligent about loading up on cruciferous veggies like broccoli and brussels sprouts, chances are it's because you know all the good things a daily dose of vitamin C can do for your health. Well, the same goes for your skin.
Applied topically on your skin, vitamin C is an overachiever that can help protect, rejuvenate and enhance your complexion: it will protect against external aggressors, work to even out uneven skin tone and texture, soften the appearance of fine lines and blemish scars, and enhance radiance. The result? Skin that looks, feels and behaves like healthy skin – and we all know that healthy skin is the foundation for glowing skin.
Let's take a deeper look at this skincare superhero, shall we?
Vitamin C is an antioxidant, which can protect skin cells from daily aggressors like air pollution, sun damage and other premature agers. This process of protection is typically referred to as the neutralisation of free radicals (more on that later!).
In the right concentration (most experts recommend a formula that contains between 10 and 20 percent vitamin C, depending on your skin type), vitamin C is a safe and highly effective acid that can work to reduce dullness, uneven skin tone, texture and blemish-scarring, all while offsetting the impact of environmental aggressors. With continued use, you'll notice brighter, more even and glowier-looking skin.
What are the benefits of vitamin C?
Regular use of a vitamin C skincare product will keep your skin looking, feeling and functioning like healthy skin, and that's all due to its free radical-neutralising properties.
Free radicals, and the molecules within them, form as the result of exposure to pollution or UV. They attack skin cells and speed up the ageing process, leading to visible signs like fine lines and wrinkles, dullness, enlarged pores and rough texture. By nuking these free radicals, vitamin C tries to stop the damage from happening in the first place. In the same way your daily oral intake of vitamin C can help your body fight off free radicals, topical vitamin C can help your skin fight them, too.
But then vitamin C goes further (we told you she was an overachiever!) and also helps to support the skin's collagen and elastin production process, as well as brighten dark spots. It also has melanin-inhibiting benefits that may prevent future dark marks from developing.
And if you're wondering, 'why can't my daily glass of orange juice do all of that, why do I need a separate topical product?', here's why: While consuming vitamin C via your diet is generally important, when you do so, the benefits are dispersed throughout your entire body. So, if you want to reap the benefits on your skin (too good to share, we get it), applying skincare containing vitamin C is ideal for a targeted approach.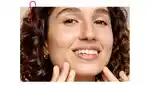 What are the different types of vitamin C?
There are different ways that vitamin C might be listed on a product: ascorbic acid (also known as L-ascorbic acid), ascorbate, tetrahexyldecyl ascorbate, magnesium ascorbyl phosphate, methylsilanol ascorbate and ascorbyl palmitate, to name just a few.
The most popular one is ascorbic acid (or L-ascorbic acid), which is considered the most stable and effective for skincare – and it's also the most-researched.
What skin types can use vitamin C?
Most skin types can safely use vitamin C, every day, with a few exceptions.
If you have sensitive or reactive skin, stick to formulas with a lesser concentration of around five percent vitamin C, and always do a patch test first.
Oily skin may also have a hard time with vitamin C skincare, which is itself sometimes oily, so it might take a bit of research and trial-and-error before you find the one that's right for you.
And even if you have a stable or normal skin type but have never used vitamin C, and you start with a high concentration, expect some irritation. Our advice? Whenever you're introducing a new skincare ingredient into your regimen, do it gradually.
How do you use vitamin C in your routine?
Unless you have sensitive skin, look for a product with between 10 and 20 percent vitamin C, to see tangible results.
As a general rule, it's recommended to incorporate vitamin C into your skincare regime every day, or every other day, ideally in the morning. Why the AM? Because the antioxidant helps to protect from things like pollution and UV light, which you're typically exposed to throughout the day. This also means you can use your heavier acids and exfoliants at night, without interference.
Leave-on products are best, particularly serums, which are formulated to dive deeper into the skin. If you're using vitamin C in serum form (this would be the first step of your morning routine, after cleansing), make sure your skin is completely clean; any residue left from cleansing oils and creams will create a barrier that prevents your serum from being effectively absorbed, so make sure to really wash away any traces of cleanser for the best results.
As with all skincare, start small (just a few drops!) and with a lower concentration to build up your skin's tolerance.
What skincare ingredients can you pair with vitamin C, and is there any to avoid?
If you're an advanced skintellectual, go ahead and pair your vitamin C with another antioxidant, like vitamin E or ferulic acid, to double up on the free radical-fighting powers. Don't mix vitamin C with exfoliating acids like AHAs and BHAs, which could be a recipe for angry and reactive skin.
Vitamin C and retinol won't lose their effectiveness when paired together, but it could cause issues like irritation and sensitivity. Retinol is also known to make skin more sensitive to the sun, so maybe leave that one for night, and use vitamin C in the day.
And, of course, never ever skip the SPF.
Why is vitamin C packaging so important?
In addition to being one of the skincare world's most awesome multitaskers, vitamin C is also one of skincare's most unstable ingredients.
Antioxidants like vitamin C work by binding to free radicals so that your skin cells don't. The problem here is that vitamin C will immediately bind to any oxygen or light that enters its tube or bottle, which causes it to both oxidise and lose its potency pretty quickly. It's why the best vitamin C products will be housed in opaque, dark, amber containers (so sunlight doesn't filter through), and maybe airless pumps, tubes or bottles (to keep oxygen out). And it's why you should store your vitamin C skincare in a cool and dark place, not your hot and steamy and sunlight-filled bathroom.
Our guide to vitamin C oxidisation is here to help, but a great place to start to gauge the lifespan and efficacy of your vitamin C serum is to look out for the PAO (period after opening) symbol on the outer packaging. If your bottle doesn't have one, be sure to keep an eye out for significant darkening or discolouration (the product will usually become coppery or brownish) which can be a sign of oxidisation. Another tip: once the oxidation process has started, there is no way to stop it, so toss it, move on, and start storing your vitamin C skincare products properly!