What do Kim Kardashian, Jennifer Aniston, Margot Robbie, Victoria Beckham, Hailey Bieber and Dakota Johnson have in common?
Besides being some of the biggest names in Hollywood, they're also members of the Augustinus Bader fan club. And when celebrities with access to every single skincare product on Earth rave about something, you know it's good!
Founded by German biomedical scientist and physician Professor Augustinus Bader, an expert in stem-cell biology and regenerative medicine, this is pioneering skincare with the science to back up its claims.
"There is nothing that even compares to Augustinus Bader on the market," confirms Lord Gavin McLeod-Valentine, a celebrity facialist and Augustinus Bader brand representative (and owner of a very fabulous name!). "I truly believe that and felt this way long before I partnered with the brand. In fact, that's why I was laser-focused on wanting to work with them." Well, mission accomplished.
In his role, McLeod-Valentine comes into (very) close contact with some of the most famous faces in the world, so of course we wanted to learn all his skin secrets. And lucky for us, McLeod-Valentine was in a very sharing mood...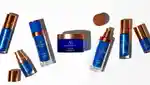 Skin has always been his thing
McLeod-Valentine has always been fascinated by beauty. Growing up, he would watch his mother and grandmothers perform "the almost ceremonial act of applying creams," but it was his own struggle with breakouts as a teen that made him "hell-bent on finding a solution" for his skin troubles: "That growing knowledge base went from being an interest to a passion, and eventually all roads led me to where I am today," he tells MECCA.
And where is that, exactly? At the top of the list of skin experts that celebrities call when they're about to walk the red carpet. Some might even call McLeod-Valentine a good luck charm: four of his clients — Allison Janney, Olivia Colman, Laura Dern and Jessica Chastain — won Oscars right after he treated them. And it was another A-list friend, Kim Kardashian, who introduced McLeod-Valentine to the Augustinus Bader brand.
For the facialist, the allure of Augustinus Bader comes down to what's inside that distinctive blue-and-gold packaging: TFC8®, or the brand's patented Trigger Factor Complex. "Augustinus Bader [is] powered by TFC8® [and] provides the skin with everything it needs to get back to a place of balanced function," he explains. "It's the adaptive nature of the products to the individual user that brings about unparalleled refinement to the skin."

If there's one thing we want to steal from celebrities, it's their dewy skin (and their designer shoes and vintage bags), so we had to ask McLeod-Valentine to share.
First, hydration. He name-checks proven hydrating ingredients, like hyaluronic acid, squalane, glycerine, seaweed and polysaccharides, but it's the cutting-edge TFC8® – Augustinus Bader's proprietary blend of skin-enhancing ingredients – that ups the ante, "unmatched in their ability to address not just hydration but all aspects of skin concerns."
And the second is McLeod-Valentine's unique "rhythmic massage" he performs during treatments. It's a technique inspired by the facial massage training he received from a former geisha, which he describes as "a very intentional facial massage with deep pressure and rigorous slapping to increase blood flow and oxygenation, activate the muscles to tone and tighten, and drain lymph congestion to depuff and sculpt."
Below, McLeod-Valentine with some of his celebrity clients (L–R): Sophia Bush, The White Lotus star Meghann Fahy and Debra Messing.
There is nothing that even compares to Augustinus Bader on the market.
Lord Gavin McLeod-Valentine
Back to that red carpet glow…
Thought we were done with the celebrity treatment questions? Guess again! When asked to share his signature 90-minute pre-red carpet facial (the one that made Jessica Chastain glow brighter than her golden Oscar statuette), he was only too happy to oblige. You're welcome.
Step one: "I love The Cleansing Balm for facial massage with hands or with a facial roller, gua sha or microcurrent device," says McLeod-Valentine, who follows up with The Cream Cleansing Gel, The Essence, The Serum and The Eye Cream."
Next up, hydration (important!) – and McLeod-Valentine has this tip: "I love pairing The Rich Cream with a drop of The Face Oil for an extra dose of emollience and glow."
To finish, "a swipe of The Lip Balm [which is] the perfect skin highlighter; I love to use it to strobe the top of the cheekbones, the eyelids, tip of the nose and collarbone for extra light play as it has the most beautiful natural gleam."