Remember the days when skincare used to be a matter of 'cleanse, tone, moisturise? Ah, sweet innocence.
While we would like to write personal thank you cards to both retinol and hyaluronic acid for gracing us with their presence, there's no denying that as the science of beauty has come leaps and bounds, so too have the number of steps in our routines.
Whether you're skin cycling or layering serums, working in a face oil or trialling a new chemical exfoliant, it can be hard to know exactly which step goes where. And keeping all your actives happy is about as tricky as organising a seating chart (vitamin C and ferulic acid have to sit next to each other, but if retinol and AHA are even on the same table you're in trouble.)
But here's why following the right order of application is worth your time: it's good for your skin (after all, you want to reap the best results possible), and for your bank account. Serums, moisturisers and oils can be a significant investment. Knowing what to layer first, and how to ensure one product or ingredient doesn't negate or undo the benefits of the other, means you won't waste a single drop.
Confused? You'll want to save this easy-to-follow skincare order schedule.
MECCA skincare expert, Lucy Shaw, admits that perfecting your skincare layering "can often be confusing." A good beginner tip? "Apply your products in order of thinnest consistency to thickest" – this is a trick Shaw picked up in Korea, the home of skincare layering. "If in doubt," she says, "apply a pump of each product onto the back of your hand and turn your hand to one side so that they start to run. The product that drips first goes on first, and then so on and so forth."
There are, of course, some outliers, and time of day does play a part in perfecting your layers, too. Here's a step-by-step guide to getting it right.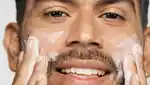 Your morning skincare order
We're guessing you already knew this goes first, cleanser. Whether you're a firm believer in a morning cleanse or prefer a quick splash of water, cleansing is always step one. You can pick your cleanser based on your skin type (foams and gels are generally suited to oily or combination skin, while creams will nourish dry skin), or the time of year (perhaps a balancing cleanser in summer, and a hydrating one in winter).
MECCA recommends
2. Exfoliators, toners, mists, treatments
This is where things can start to get a little tricky.
If you use a physical exfoliant, you'll do this right after cleansing. Just remember, only use physical exfoliators every other day so as not to disrupt your skin's barrier function. Otherwise, it's onto toners, mists and treatments. To get the best results, you want these to be as concentrated as possible, so Shaw says "it's best to apply treatments before your other steps so that they have a chance to absorb first and won't be diluted by any other products." If you're using a targeted blemish or spot treatment, this should be applied next.
And if you're using a leave-on chemical exfoliator, you'll apply that after toner or treatment lotion.
MECCA recommends
3. Essences, serums, boosters
Follow up with your preferred cocktail of serums, boosters and essences, always keeping in mind to layer on the thinnest to the thickest formula. These products are generally your protectors and should be packed with skin-loving antioxidants that help to shield the skin from environmental aggressors (like vitamin C or ceramides), or ingredients suited to your specific skin type and concerns (hyaluronic acid if your skin is dry, or niacinamide to help balance oil production).
MECCA recommends
4. Oils, eye creams, moisturisers
If you use eye cream or oil, they go next. Pat these products on and work them in to fully absorb into skin, before going over the top with moisturiser.
MECCA recommends
This is always your final and separate step. Use a dedicated
SPF
product (not mixed in with any other products, as this may impact the efficacy of the sun protection). Apply liberally (don't be shy!) and don't forget your eyelids, ears and décolletage.
Your evening skincare order
All great nighttime skincare routines start with a reliable cleanser or two. If you like to double cleanse start with a balm or oil cleanser to melt away the day's makeup, sunscreen and grime, or micellar water if you're only removing the night's makeup. Follow with your regular cleanser as step two.
MECCA recommends
2. Exfoliators, toners, mists, treatments
If you're one to exfoliate in the evening, reach for this now, when your skin is thoroughly cleansed and ready. If you're a twice-a-day exfoliator, ensure you're using a gentle formula, or maybe skip the PM exfoliation altogether, otherwise you might upset your skin's barrier.
Splash on your toner, mist or treatment lotion to prep your skin for the next steps.
MECCA recommends
3. Essences, serums, boosters
Just like in the morning, these products make up the middle of your routine. Keep in mind you don't need to use all products, every single day, and that you can switch things up during the week. You may use retinol a few times a week, and incorporate exfoliants on other nights. And always check in with your skin and use products accordingly, so if it's experiencing dryness due to the seasons, or a hormonal flare-up, drop in a booster for targeted treatment.
One thing Shaw recommends for all skin types, every night, is an essence because of their thirst-quenching abilities and the fact that "skin can carry out all of its usual functions better when it is hydrated."
MECCA recommends
4. Oils, eye creams, moisturisers
Now you're ready to lock in all that goodness. Apply your eye cream and oil (if you use them), and seal everything in with a nourishing moisturiser. Again, pay attention to your skin and what it's telling you, and don't be surprised to find it needs different things throughout the year - summer's lightweight lotion might not cut it in winter and you may need to switch to a heavier cream or balm. Adjust accordingly!
MECCA recommends
It's best used only at night, as it can make skin more sensitive to the sun. Depending on the texture, apply pre-serum (if it's lightweight), or after serums (if it's more cream-like). And if you're new to retinol, you might want to consider 'buffering' This is when you either apply retinol after moisturiser, or mix retinol with moisturiser to offset any potential irritating side effects, just until your skin builds up tolerance.
Masks
only go on cleansed skin, and are removed before any serums or oils are applied. Got thirsty skin? A thin layer of your hydrating mask can sit under moisturiser and on top of serums, no problem.