Malin+Goetz believes that a simple two-step skincare regime is all you need.
The Memo caught up with founders Matthew Malin and Andrew Goetz at their New York office to find out more about their modern yet minimalist ethos.
When describing today's skincare habits – double and triple cleansing, 12-step daily regimens, essences, ferments and whatnot – 'simple' is the least likely word to come to mind. Yet Malin+Goetz, the New York-based beauty and grooming brand, has long prescribed a pared-back approach to taking care of your complexion. Its products are easy to use, and you only need a handful of them to get results. And 18 years on, the idea still feels fresh.
The case for minimalism? Founders Matthew Malin and Andrew Goetz will tell you that simplicity is a luxury, and a surfeit of products can be "intimidating". On a morning in Manhattan, they were seated at their office near the Empire State Building. With its sleek surfaces, brilliant lighting and their cute pug, Mr Greenberg), lolling about, it was all convincingly on-message. The real-life couple come across as funny, self-deprecating and refreshingly outspoken.
Their brand was built on "a concept for a two-step regime, regardless" of gender or skin type, Goetz – whose perpetual tan, cerebral glasses and urbane (yet not too polished) style are clear products of growing up in the City That Never Sleeps – explains, adding, "If you're [part of] a modern couple, you might be shopping for products together."
Goetz also made the products a visual (though utilitarian) treat; with a design background and years honing his eye at furniture company Vitra, he uses typeface and colour to distinguish between beauty categories: blue text for skincare, maroon for haircare and green for body care.
We're really trying to instruct on the simplicity of how to luxuriously take care of yourself every single day.

In cities like New York, bathroom space is precious, and urbanites like Malin and Goetz craved effective products that were both versatile and attractive enough to display on counters. Malin, a former beauty buyer for one of New York's iconic department stores, had skin issues like eczema and rosacea to fret about too. "Years ago, when we launched, we specifically didn't use waxes and silicones as fillers – not least because they can clog pores," said Malin. He pointed to the line's Vitamin E Moisturizer, which works as well on his sensitive skin as Goetz's combination complexion.
That sort of ethos has extended to other products, like the brand's bestselling eucalyptus-scented, aluminium-free deodorant. Goetz recalled taking years to formulate the product, which is also made without parabens, alcohol or baking soda – making it great for all skin types (especially sensitive). True to the brand's roots, they also chose to go the gender-neutral route in terms of fragrance, explaining, "If you look at the antiperspirant market, it's very divided. The scents are very much 'male' or 'female'. This one is about 50/50."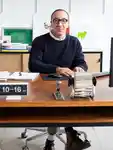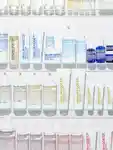 The company continues to define what a beauty brand means today. Consider its innovative Brightening Enzyme Mask, a gel mask-and-exfoliator in one that delivers glowing skin.
And when it comes to gender in skincare, if the products targeted towards women is overly complex, Malin has found that men's beauty experience can feel "dumbed down". As a customer, "I want someone to speak to me in an educated voice," he said. "I don't want to use something called 'beard lube'."
Instead, Malin+Goetz speaks to the way men today view beauty, self-care and maintenance: "It's a natural progression that you start taking care of your skin and hair," Malin explains.
Bridging the gaps in beauty has only become easier as the brand has grown from a humble Chelsea storefront to locations worldwide – including MECCA! Pointing to urban centres like Sydney, Los Angeles and London, Malin noted the needs remain the same: "We always say the greatest luxury in life is time."
If you reduce to the basics of beauty, "a man needs to do whatever everyone else needs to do: that is to wash your face and moisturise it," he added. "We're really trying to instruct on the simplicity of how to really luxuriously take care of yourself every single day."
Matthew Malin's daily routine
Skincare: "Because I have some serious skin issues, I keep it as simple as possible. I wash my face with the Grapefruit Cleanser, then use our Vitamin E Face Moisturizer, an oil-free moisturiser that offers deep hydration. Depending on the weather, I might integrate our Replenishing Face Serum twice a day. It's full of sodium hyaluronate, which is a humectant and brings moisture to the skin."
Shower: "I prefer the Bergamot Shower Gel, but we always have the Eucalyptus one in the shower because that's what Andrew uses. I might use that if I get bored with Bergamot."
Best travel hack: "If you forgot your shave cream or just didn't have the room to pack it, we've always treated our haircare line like skincare. In a pinch, you can use the conditioner from our travel-sized Best-Sellers Travel Kit as a shave cream."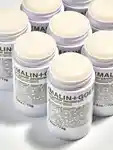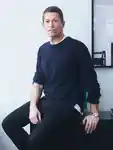 Andrew Goetz's daily routine
Skin and hair: "I have normal to combination skin. I love the Jojoba Face Scrub; I like the physicality of it, but it's also super hydrating. Then I do my moisturiser depending on the weather. If it's really hot and humid, I'll just use the Replenishing Face Serum. If the seasons change, I'll do the Vitamin E Moisturizer. I also use our Resurfacing Glycolic Face Pads more as I'm getting older. After the gym, I love using our Peppermint Shampoo and Cilantro Conditioner. If I need it, I'll use our Lip Moisturizer."
Best travel tip: "If you're taking a flight from New York to Sydney, use the Detox Face Mask in the air. It's a gel mask that foams and oxygenates. You don't need water. You can tissue it off."