In 2018 – that golden age of Instagram influencers and beauty bloggers – there was one product that seemed to be on everyone's feed (and bathroom shelf): Summer Friday's Jet Lag Mask. Housed in a pale blue tube, it was a standout in a sea of Millennial pink packaging, and every 'It' girl seemed to be in love with it.
The first product created by the brand's co-founders, Marianna Hewitt and Lauren Ireland, it quickly gained cult status. It was a super hydrator that could be used multiple ways – face mask! Moisturiser! Under-eye cream! Overnight treatment! Hand cream! – and came sleekly packaged with an attention-grabbing name. Because who doesn't want to beat jet lag?
Fast forward five years and the brand has just dropped its latest launch—the Rich Cushion Cream. With the same classic blue colour (now in a chic jar) like the Jet Lag Mask, it promises to deliver an intense dose of hydration.
As someone with a severely compromised skin barrier and combination skin type, I was hesitant to how 'rich' it would be – thicker creams tend to clog my pores, causing breakouts – but upon first swipe, I was pleasantly surprised.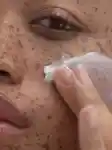 In the jar, the cream looks luscious and certainly, well, rich. But after scooping a pearl-sized amount (a little goes a long way!), and massaging between my fingertips to warm it up, it's far less thick than I imagined. When applied, it feels like a much lighter cream too, sinking into my skin effortlessly. You could consider it a day cream formulated with the same benefits as a night cream – but not nearly as heavy once applied. After a few applications, I certainly felt more hydrated and my skin seemed to be improving (less flakiness and redness).
After all, many skin concerns come from lack of hydration, whether it's internal (how much water you're drinking, etc), or external (what you're actually putting on your skin). To get into the specifics, it packs a triple whammy of moisture-locking ingredients – squalane, glycerine and saccharide – plus hyaluronic acid and watermelon rind extract (!!!) to add even more plumpness to skin. Then, there's the addition of chamomile and allantoin, both of which soothe skin to help reduce redness and inflammation.
A week later, I'm a convert! My skin feels more hydrated, looks less red and I haven't had any reactions. Now, my plan is to put it to work in a number of different ways: a thicker layer as an overnight mask, an eye mask on those extra-tired days, and even a spot treatment on dryer areas (think: elbows and hands).