Introducing 'Behind The Beauty'; your key to the homes, boutiques, studios, cities, gardens, offices and labs that bring to life the world's most iconic beauty brands. Guided by the founders, formulators and leaders of the industry, we're taking you with us around the world for a private tour that explores the origins, inspirations and day-to-day operations of your beauty favourites.
This episode, we catch a behind-the-scenes glimpse into the New York home of Costa Brazil founder, and former creative director of Calvin Klein, Francisco Costa. Nestled on the South Shore of Long Island, his tranquil home presents an array of treasures that have served as a source of inspiration behind the brand's reductionist aesthetic and ethos.
Take a tour of Costa's light-filled space, including a peek at his expansive book collection, a foray into his bathroom – a space in which he practices the local healing rituals of his homeland, such as the lighting of Breu resin to begin his morning – and an insight into how the Amazon rainforest inspired his luxurious body care formulas that will completely transport you to someplace tropical, grounding and far away.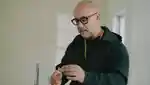 Credits:
Director/Producer: Kerri Gordon
Production company: YesYesOk Inc/Lakhota Camera & Sound
Director of photography: Pat O'Leary
Camera operators: Joe Quartararo and Matt Matossian
Gaffer: Stefan
Sound: James Nolan