Elle Ferguson has made rose-scented self-tanning a reality.
The Memo visited her Sydney home for a glimpse of her Bondi lifestyle including where to brunch, how to get over jetlag and her weekly tanning rituals.
It's the ultimate beach day in Bondi: hot, humid and the ocean breeze is beckoning, which is fitting since we're visiting the quintessential Bondi babe, Elle Ferguson. The fashion influencer, model and entrepreneur's tan brand, ELEFFECT has had a sell-out response at MECCA. In a crazy short time, her one-and-done product has become a holy grail tanner.
Ferguson's home, which she shares with fiancé Joel Patfull, is everything you'd expect if you're one of the 670K followers regularly double-tapping her Instagram account. There are surfboards, crystals, a bursting beauty cabinet and then there's the fashion. Her sunroom is custom designed with shoe and handbag racks to hold her expansive collection. A second room holds myriad wardrobe options for an upcoming trip to L.A., while her 80-plus denim short collection has a special place of its own. Shorts are Ferguson's signature look since before her days as a General Pants Co. visual merchandiser, though she's yet to find the perfect cut and colour. Still, she has a knack for finding (or creating) her perfect things - home and self-tanning products included!
We actually developed the Tan Applicator Mitt off feedback from the MECCA Team.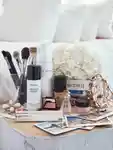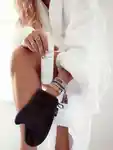 TMM: Talk us through your current morning beauty routine
EF: "In the morning, I always wash my face with warm water and nothing else, and I put on a cold cream or sometimes the Summer Fridays Jet Lag Mask. I love it as a mask and a moisturiser. I let that settle into my warm skin while I spray some dry shampoo in my hair and tie it in a low bun. Then I brush my teeth, apply a second moisturiser and eye cream, and then do my makeup."
"First the Rose Inc Skin Enhance Luminous Tinted Serum, I literally just purchased my second bottle! Then I mix the Chantecaille Liquid Lumiere with my foundation and apply. Next, concealer, setting powder, NARS Laguna Bronzer, white eyeliner in the waterline of my eyes, Kevyn Aucoin The Volume Mascara and a cream blush. Lastly, I'll draw on the NARS Lip Pencil in 'Dolce Vita' and finish my hair, brushing out the dry shampoo, tonging and setting it with hairspray."
How does tanning night usually go?
"For me, it's usually a Thursday night. I remove all my
makeup
then shower and scrub all my tan off with a
Frank Body scrub
and exfoliate my face with
The Rice Polish by Tatcha
. Then I apply a fresh coat of
ELEFFECT tanning mousse
. I'm a tanning mitt girl. We actually developed the
ELEFFECT Tan Applicator Mitt
off feedback from the MECCA Team. We added a thumb hole and the fabric is super LUXE so that you get the perfect mitt for application and blending. I love a deep golden glow, so I apply two coats one after the other. I sleep in the tan while it develops and rinse in the morning."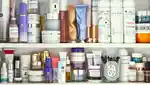 What's your favourite thing about ELEFFECT tan?
"The colour, closely followed by the scent. It's red-based, so it gives you an extremely natural looking
tan
, almost like you have been out in the sun. The scent is from fresh roses, which just makes it so much better."
What's the last product you found that really worked for your skin?
"I can't go past the
Tatcha Luminous Dewy Skin Mist
. I think it's because I travel so much and I'm constantly on a plane. When I fly, whether it's an hour or 24-hours, I often have to go straight to work. The mist allows me to stay hydrated without having to redo my makeup, which is the best thing in the world. I have also loved
The Silk Canvas Protective Primer
from Tatcha, and last week I started using Westman Atelier too. I love that you can apply everything with your fingers. It's really refreshing, like finger painting for adults. Can you tell I'm a total beauty junkie?"
There's something quite beautiful when you've got such a pure heart and it just radiates through your skin.
Is there a look you struggle to achieve?
"I would love to be able to rock a bold lip more often than I do. If anybody out there wants to send through some tricks, I'd love to be able to rock that no-mascara, no-makeup bold lip look. I've tried, but I get the photos back and it's all wrong."
What are your house rules?
"My favourite thing about my home is the fact that we live by the motto 'home is where the heart is' and that it's where the people I love are. The other rule is that we leave everything looking beautiful. Everything has a spot and has to go back where it belongs. Poor Joel has to live by this rule as well - it's taken him close to three years to fully understand it. He's getting there!"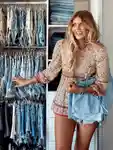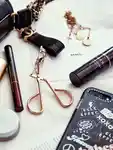 What are the best things about living in Bondi?
"That I can go to dinner barefoot and I can walk to the beach in minutes."
Where's the best place to get brunch in Bondi?
"During the week it's Harry's but on Saturdays [brunch is at] the farmer's market at Bondi Public School. I go between this little vegetarian place that does awesome corn fritters and another stall that does delicious Asian bowls. It's really fresh and very farm-to-table there. It's great."
Where is your favourite place to travel to?
"Byron Bay always brings me back to life, but I would also like to say my favourite place is destination unknown. I love that with my job I get to explore new places and meet new people and you know what, I don't think I've been to my most favourite place yet!"

What did you want to be when you grew up?
"When I was young, I wanted to either be a fashion designer or an FBI agent. It really was two extremes, wasn't it?"
Who is your ultimate beauty icon?
"Without a doubt it's my mum, Kim Ferguson. Flawless, effortless and there's something quite beautiful when you've got such a pure heart and it just radiates through your skin. She also used to swear by
NARS blush in 'Orgasm'
and now my sister and I don't leave the house without it."