Sleepless nights, dehydrated skin and a fuzzy brain struggling to recalibrate to the time zone of home – jet lag just might be the worst travel companion (even if your European summer was worth it). 
And while there's no magic pill to getting your routine quickly back on track, these five steps from kit: are a helpful ritual to reset the nervous system, rehydrate the skin and get the blood flowing after the disruptions of travel. The brand's Product Development Manager, Sarah Hudson, gives us the lowdown on how she fights the unwelcome effects of jet lag!
It's night time, your mind is buzzing and you can't sleep no matter how much you try. Sound familiar? Try these snooze-inducing drops.
"The RE:LAX drops are the ideal remedy to help beat jet lag, promoting relaxation as you prepare for bed to support healthy sleep patterns. I love that they contain passionflower and magnesium, ingredients known to promote relaxation. They're the last step in my nightly wind-down routine to help switch off from the day."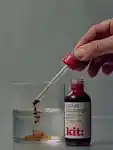 Getting back into routine after travel is tricky enough, especially when your brain's still in holiday mode. Reach for these when you need that much needed afternoon zing.
"Another winner when it comes to getting the better of jet lag, the RE:FRESH drops give a boost of energy to help adjust to different timezones and re-sync the body clock to tackle fatigue face-on. The sister to the RE:LAX drops, it's abundant in energy-boosting vitamin B3, ginseng and zinc, making it an ideal caffeine-free lift for mornings (or to overcome the 3pm afternoon slump!)."
Sitting on a plane for a long period of time impacts our blood flow and circulation. One way to combat this? Compression socks – the not-always-so-fashionable knee-high remedy to preventing blood clotting, cramping and swelling when flying. The other? Body brushing.
"I love the All Body Dry Brush after long (often cramped) journeys, which helps to stimulate your lymphatic system, revive restless bodies and get the blood flowing. I enjoy using the brush over dry skin to buff away dead skin cells, boost circulation and leave skin feeling alive and invigorated."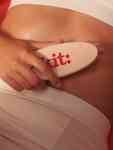 You're on a flight, surrounded by strangers and in it for the long-haul feeling icky, sticky and groggy. It may sound simple, but sometimes all you need is a good shower to help reset and feel human again.
"This is my go-to body wash to elevate every shower moment! The 100 percent natural fragrance invigorates the senses, coupled with an abundance of nourishing nut and seed oils to leave the skin feeling super clean yet supple and smooth. For me, it's the bright and refreshing fragrance with notes of sweet orange, ylang ylang and cedarwood that make this the wash I always reach for post-travel."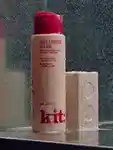 The dry air that circulates during flying leaves our skin feeling dry, tight and lacklustre. So, when you hit home, don't forget to moisturise.
"With notes of lavender, sandalwood and eucalyptus, the Unwind Body Balm is the perfect way to prepare the body for rest and relaxation at home and overcome the holiday blues. The rich, buttery balm instantly wraps the skin in hydration and is enriched with magnesium, so I love to mindfully massage it into overworked muscles to help relax and prepare for rest. It's the ultimate cocoon for the body!"