Designed 'for all skinkind', the kit: range covers skincare, body rituals, tools and lifestyle essentials that both simplify and prioritise the concept of self-care.
The brand delivers affordable, do-what-they-say beauty basics that are stripped back, simple and utilitarian at heart. Zesty herbal scents let each product double as a tool for grounding aromatherapy, and their modern formulations offer peace of mind around the goods in the bottle (and the tube, pot and dropper).
Sure, it all sounds great, but how does it actually perform? We dropped some of the range on desks around MECCA HQ to put kit: to the test.
"Despite knowing how important it is to care for skin all over, I have to admit that 99 percent of my skincare effort is reserved for my face. So when the new body care range from kit: landed on my desk, I decided now was prime time to embark on a full body skincare routine.
"Everyone at MECCA HQ has been raving about dry brushing (scaly, winter skin be gone!). I've dabbled in the past but can confirm I'm now a convert after using the All Body Dry Brush. Using long strokes in an upward motion, starting from the legs leaves skin impressively soft.
"Throughout this assignment, I've also discovered I'm all for a heady-scented body wash. The Wellness Wash, with top notes of sweet orange, mandarin and galbanum, plus an adaptogenic herbal blend of liquorice and ginseng, truly lifted me away for a moment. And the similarly scented Body Nutrition Lotion is ultra (ultra!) moisturising, yet somehow not at all tacky or sticky. Plus, it left me with a lovely sheen that my neglected limbs are not accustomed to. My extremities have never been smoother!"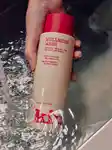 "I sprung from my bed in a rush to get to an exercise class, and this was when the Mineral Water Cleanser shone, in all its glory. It's the perfect cleanser for those rush-out-the-door moments when all you have time for is a quick spritz and wipe. The mist is a lazy gal's ticket to quick, easy skincare. It smells amazing: floral but earthy. It was really refreshing – a soft mist that you can just towel off after spritzing, leaving skin cleansed and hydrated."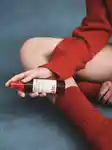 "In the past few years, my skin transitioned from oily to dry and sensitive (a combination of ageing, mask-wearing and the stressors of the '20s). My current skincare routine is calming, nourishing and hydrating, free from harsh acids, retinoids and exfoliants, and instead packed with ceramides, niacinamide and lush oils. So, to say I was keen to try kit:'s No. 3 Concentrate, Universal Face Lotion and Skinkind Face Oil would be an understatement!
"I've now used this trio morning and night for the past five days and my skin is loving it! Any redness I had has been visibly calmed, my dry patches have been less dry (a real surprise considering Melbourne's current forecast) and I've loved taking a deep breath of the scent of the lotion and oil as I've applied them. With goji berry, liquorice root and niacinamide for calm, protected skin, I think the No. 3 Concentrate might just be the star of the show. And although kit: isn't a 'makeup' brand, I'll also note that the formulas sat super well under my full face – I'm talking clear, bouncy skin, free from caking and creasing.
"These are basics done exceptionally well. I'm definitely sucked into the brand, its products and its ethos, and I plan on gifting it to every skincare-hesitant person in my life."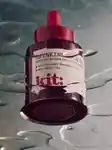 "Full disclosure: I've never used a Gua Sha before, so when the opportunity to try kit:'s came up, I jumped on it. I also jumped on YouTube to watch some quick tutorials on how to actually use the tool before I gave it a go.
"First impressions? I loved that it had some weight to it. It felt quite luxurious and like I was in for a decadent self-care moment. The tool is made from stainless steel and I enjoyed how cooling it felt on the skin. Before taking it for a spin, I applied a face oil which ensured the tool glided nicely across the skin without pulling or tugging. Once finished, I could see improvements in my cheeks and my jaw felt noticeably more relaxed. I think it'll become a staple in my night-time skincare routine!
"As for the morning, the No. 1 Concentrate slipped perfectly into my daytime skincare routine. I loved how easily it glided across my skin before quickly sinking in without leaving any tackiness or residue. The big test for me is always how a serum performs with SPF and makeup over it, and this one didn't disappoint. There was no pilling and no difference to how my regular day-to-day base appeared. I definitely felt like my skin appeared more radiant after applying this in the morning, thanks to the Australian Kakadu plum (which happens to be the world's richest natural source of vitamin C!)."