If you've ever thought to yourself, 'when did skincare get so…complicated?' then kit: has a brand philosophy that will speak to your soul.
With a mission to create formulas for all skinkind, their tagline says it all: 'skincare that simplifies.'
And simplify it does. By focusing on purpose-led, naturally-derived ingredients of the highest quality, kit: has created a toolbox of wholesome, intuitive products that pack a powerful punch.
When it comes to kit: the word 'kind' doesn't just apply to your skin – the brand is also passionate about being kind to the planet. So if your values extend further than skin deep, you'll love the brand's approach to plastics management (they're certified plastic neutral), conscious packaging choices, natural fragrances and botanical ingredients.
And since kit: believe that skin health is an ecosystem that should be nourished holistically, their range incorporates everything from body care tools to a balm to supercharge your sleep. Here are our top favourites.
Perhaps you've heard of gua sha? If you're partial to a scroll on TikTok or a foray onto beauty blogs then no doubt you've seen it in action. What you might not know is that gua sha is the practice, not the tool itself (so you can't buy a gua sha, but you can practice gua sha with a gua sha tool). And if you're going to, then this is the one to do it with.
If the gentle curves and the mirrored finish don't get you in, then the coolness of the stainless steel might seal the deal. Perfect for working in your choice of facial oil (never use on dry skin due to the damage tugging can cause) kit:'s gua sha tool is satisfyingly heavy in the hand and just the right weight to practice this unique art of facial massage. Whether it's releasing jaw tension, increasing circulation or de-puffing if you skipped your Melatonin Night Balm the night before, the kit: gua sha tool does it all. Plus it's non-porous (important when it's coming into contact with your face) and less prone to breakage than traditional jade or rose quartz versions.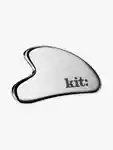 Like a little red bullet for skin concerns, kit: created Skinkind Face Oil with modern skin in mind. That's skin that's likely dealing with the effects of pollution as well as stress, and possibly a little overtreatment (so if you've been going hard on the actives or have your favourite microdermabrasion clinic on speed dial, this oil is for you.) A potent healer, anti-inflammatory and hydrator, it's like a dose of skin food to calm and rejuvenate. With botanical adaptogen Holy Basil Oil to soothe irritation and the rich fatty acids of cold-pressed macadamia oil to nourish the skin's barrier, there's plenty to love about this super hydrating oil.
If all of that sounds like a recipe for a thick, sticky oil, prepare to be pleasantly surprised. Skinkind Face Oil is rapidly absorbed with a super lightweight texture, while keeping skin balanced and protected. Thanks to the use of botanical ingredients and natural fragrance, it provides a gentle formulation that works on all skin types (even sensitive) leaving skin soft and supple, while still letting it breathe.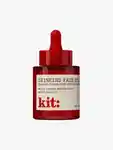 There's nothing second place about this No. 2 Concentrate. With its gentle combination of AHA and PHA, two winning chemical exfoliants, it's designed to lift and dissolve dead skin cells and grime, leaving you with a clear, even-looking skin tone. And plant lovers, don't be put off by the word 'chemical'. In this serum the exfoliation is delivered from a range of plant-derived actives. At the top of the list is Australian native finger lime, which helps protect against oil buildup, and lactic acid comes in the form of sugar, which lifts dead skin cells from the surface to leave you with glowy, even-toned results.
For gentle skin resurfacing that doesn't leave you irritated and won't compromise the dermal barrier, apply two to four drops of concentrate to cleansed skin and allow it to dry before following on with face oils and moisturisers. Use two to three times a week at night and always wear SPF, since chemical exfoliants can leave skin more vulnerable to sun damage.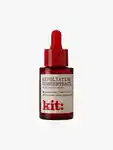 Got your face kit sorted? Now it's time to move on to the body, because why should your face get all the action? Bring kit: into the shower with you in the form of their luxurious-feeling Wellness Wash, a botanical-infused body wash that's as cleansing for the mind as it is for the body. The vegan formulation is enriched with a suite of plant-based surfactants to lather gently into a silky microfoam, without stripping skin. With cold-pressed macadamia oil to deliver a rich hit of hydrating squalane and an adaptogenic blend of liquorice and ginseng to soothe and refresh, you'll emerge from the shower feeling like you've been on a health retreat.
With an intoxicating blend of botanical fragrance notes including orange, mandarin, ylang ylang and cedarwood, this is a green, verdant and genderless scent that transforms your bathroom into a spa zone. Unfortunately, a massage and facial doesn't quite fit inside the bottle.