Isle of Paradise's Jules Von Hep on glowing from the inside, out
January 1 | 36 minute listen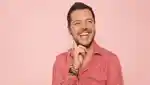 Hosted by Kate Blythe
Originally published on | November 10
Welcome back to MECCA Talks, your access all areas pass to the beauty, business, and lifestyle experts we call our community.
In this episode, Kate chats to Isle of Paradise founder and 'human ray of sunshine', Jules Von Hep. Hailed one of the best spray tanners in the world, Jules bronzed the likes of Kate Moss, Sienna Miller, Chrissy Teigen, Poppy Delevingne and Little Mix before bottling his expertise into a growing range of confidence-boosting self-tan formulas that champion glow and colour-correction over extreme bronzing.
Jules has a knack for making people glow from the inside, out, resulting in his success as a celebrity tanner, brand founder, podcast host, body-positivity champion, and today, MECCA Talks' special guest. Hit play!