In 2013, Michelle Feeney saw a sign.
Not from the universe but from the city of London. It read 'Floral Street' and it would plant the seed for her fresh, flirty and youthful take on fragrance. Available at MECCA, Floral Street is a collection of energetic, accessible and affordable scents inspired by the power of petals. There are fragrances like London Poppy and Black Lotus, as well as body products and candles. Another noteworthy trait of the brand is its entirely recyclable and biodegradable packaging. Feeney, a beauty industry stalwart, visited Melbourne recently and talked about her fragrance memories, the appeal of flowers and the one scent that brought her to tears.
It used to be a tradition to have one signature fragrance, but now it should be a wardrobe
TMM: What is it about Floral Street that evokes London?
MF: "London is a unique city in that everything happens on the street, and it's such a true melting pot of cultures. It's refreshing and challenging too, but mostly it's enriching. With the brand, I wanted to represent the mood that a woman might feel, no matter where she's from or her age, that represents her that day. It was about that free-spirited person in London – you can wear what you want and be who you want. I wanted our brand to represent that. That's how we came to brief the nose (Jérôme Épinette from Robertet) with mood boards based on moods that were very modern and very London. He made 23 fragrances for us to smell and choose from... and we've ended up with eight."
How did you whittle down 23 to eight scents?
"We made sure we took plenty of smelling breaks! You go with your own gut, because I'm a customer not a nose.
Iris Goddess
made me cry, how bizarre is that? I just smelt it and burst into tears. I was so overwhelmed by the beauty of the fragrance that I knew it had to be in the collection. And then we tested them with groups of people and made some modifications. These are fine fragrances, they are eau de parfums, and they've got 20 percent fragrance oil in them, so that means they are as good as fragrances that you'll pay triple the cost for. It also means they react with your skin and become your own personal scent."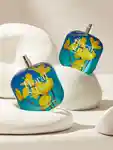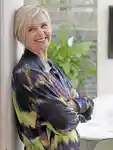 What was the attraction to working with florals? Do you have a connection to them in some way?
"The street name was Floral Street, so it had to be floral, however these are modern florals with a twist. You'll see by the ingredients we've got in there that we've achieved this. We surprise people who say they don't like florals. We like to call our
Black Lotus
fragrance 'an English rose in a black leather jacket' - everything's got a bit of a twist. My first memory of smell was my grandmother's cottage in Ireland. Smell for all of us is something really important and in Britain we're mad for gardening."
Do you have a favourite flower?
"The one smell I really missed when I was living in New York for 13 years was the smell of roses after rain in the UK, it's a very specific smell. I love poppy too, and although it doesn't have a scent, it grows everywhere - they're resilient."
Do you rotate what you wear from the collection?
"I completely rotate! We say we want you to be able to change your fragrance as often as you change your shoes. I love to take the
Discovery Set
with me when I travel. Today, because I'm trying to impress, I'm wearing
Iris Goddess
because it makes me feel quite polished. It used to be a tradition to have one signature fragrance, but now it should be a wardrobe."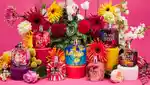 Tell us about the look and feel of the vibrant packaging?
"It's been a really organic collaborative process. We found various bottles and we worked with a small creative team in London and a photographer. We wanted the bottles to be reminiscent of an old Victorian shopfront, so quite magnifying. We played around with putting pictures of flowers behind the glass and seeing if it would work. The result is a beautiful, collectable bottle with gorgeous imagery included. We wanted them to be works of art."
And the boxes are completely biodegradable?
"Yes. People can reuse them to store their makeup or stationary, or even plant seedlings. They're completely compostable."
All your products are vegan and cruelty-free. Was that difficult?
"Not really, so I don't know why more people don't do it!"