There's nothing quite like a fresh haircut to have you feeling yourself again.
Those delightfully touchable blunt ends (not a split in sight!) and silky soft strands are enough to add a pep in anyone's step. But inevitably, the feeling fades.
Whether it's a summer of saltwater swims adding a little more texture than you bargained for, one too many tight ponytails putting pressure on your roots or an addiction to heat styling (guilty as charged), hair breakage can happen to us all. But did you know there are some simple solutions to snap-happy strands that can make all the difference? Hair care!
Before you go racing back to the salon for a drastic chop, we're here to help get a handle on hair breakage, and what to do about it. Step one? Put down the straightener (and the bleach, while you're at it) and pick up a pen! You'll want to take notes.
What is hair breakage, anyway?
We've all seen those unfortunate beauty fail videos – the ones where you watch someone singe their hair off with a curling tong, or dissolve it with an at-home dye job gone terribly, horribly wrong. But, like most things in life, it's not always that dramatic.
Hair breakage includes those pesky split ends that make your ponytail look less than sleek. And it's also the cause of those annoying flyaways that catch the light and give your style a frizzy cramp. Not to be confused with shedding – the natural process by which your scalp will release entire strands from the root to make way for new growth – hair breakage is when your hair 'snaps' off at a point along the shaft. Generally, it's a sign that your hair could be over-treated, over-styled or even simply being handled too roughly.
What causes hair breakage?
Often, hair breakage is a signal that your hair is dehydrated or brittle. There are a number of reasons that could be the cause, and the good news is that most of them are environmental – meaning they're within your control!
The usual culprits include going too hard on the heat styling, either by using styling tools that are too hot for your hair, not using an appropriate heat protectant, or even just the frequency of your styling sessions. Yep, your hair needs recovery time!
Other suspects include brushing the hair too aggressively, or when wet, since wet hair is weaker and more prone to breakage. And you might be surprised to learn that even wearing your hair in the same style each day could be doing damage (that slick, tight bun may be creating tension and tugging on the strands.) Luckily, no matter what the cause, there are some simple solutions for the most common causes of hair breakage.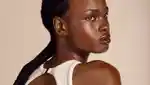 How to manage hair breakage at home
For so long the scalp was the body's most neglected patch of skin, but thanks to a bevy of new root-specific scalp products it's finally getting the attention it deserves. And with good reason; just as exfoliation and serums are the secret to glowing skin, they're also the key to healthy, shiny hair. It all starts at the root!
Just like the rest of your skin, your scalp is made up of pore-like follicles, and is typically its best self when clean, balanced, and adequately treated. This is where exfoliation comes in: build-up, dead skin cells and excess oil can clog your follicles, meaning the environment for hair growth is less than ideal. Exfoliating scrubs and treatments clear this all away while supporting the absorption of the active ingredients in your favourite shampoos, serums, and treatments.
It's bougie, but it works – sleeping on silk has some serious benefits for your hair. Cotton is more abrasive than silk, and it can create friction, which over time can cause hair to tangle and break. Sleeping on a slinky, slippery silk pillowcase helps reduce tangles, frizz and friction-induced damage, whilst also maintaining shine. If you prefer to sleep with your hair tied up, try switching to a silk scrunchie, which is less likely to pull and tug on your hair, while keeping your style intact (none of those annoying 'ponytail indent' hair tie marks, please!).
And as an added bonus, a silk pillowcase will also mean less friction for your face, so your beauty sleep gets a double whammy win!
It's great for the 'gram, but the towel twist thing you do after stepping out of the shower may be sabotaging your hair. Your hair is at its most fragile and prone to breakage when wet, and the rough cotton fibres of a standard towel can exacerbate this. That's before you put it through all that tugging, twisting and tension in your perfectly-flipped twist tie. Please, don't even think about flipping your head upside down and wringing or rubbing your delicate hair with a towel.
The fix? Upgrade to a microfibre towel. Even better, make it a specially designed turban with a toggle, to keep things secure. Not only do the microfibre towels dry hair faster (major perk!) but they are also more gentle on hair, reducing friction and therefore frizz. Goodbye, air drying!
Further protect fragile hair when it's at its most vulnerable by misting through a detangler, and easing out knots – gently – with a brush or wide-toothed comb designed specifically for wet hair.
It's no shock that hot tools can cause damage. But if you're not ready to break up with your hairdryer (or straightener, curler, crimper – who are we to judge?) it's essential to apply a thermal protection product before you plug in. Just like SPF protects skin, heat protectant curbs some of the damage heat styling does to your hair.
Speaking of SPF, like to exercise outside? Spray on a heat protectant that shields against UV, since the sun's rays can be just as damaging to already brittle hair.
And if you can bring yourself to do it, try to give your hair a break between styling sessions. Once you introduce a microfibre towel you may even find you're happy to let your hair air dry once in a while.
Your face loves a regular mask and so does your hair. "When you want to repair your hair, masks are your best friend," says hairstylist Jaye Edwards of Jaye Haircare. "I recommend my clients with damaged or bleached hair incorporate a mask into their routine once or twice a week. If they can leave it on overnight, even better!"
Maximise your masking even further by wearing a shower cap while you let the formula get to work. It will lock in the heat, open the hair cuticle and help the nourishing and repairing ingredients in the treatment to penetrate deeper.
6. Treat yourself (and your hair)
Achieving high-gloss shine comes down to intense hydration, especially in the final moments before styling. Treatments aren't just reserved for the fancy add-ons at the salon – they can unlock serious benefits when used in your regular washing and styling routine, too.
Just as a nourishing face oil can help to balance and hydrate skin, the same goes for your hair. Coat your mids-to-ends in a nourishing oil post-towel dry and pre-blow dry, or use an oil to lock in shine after styling. If hair is looking on the dry or frizzy side on day 2 or 3, a finger-comb through the ends with an oil can refresh your look and give your strands a sleek seal of approval to get you through to your next wash.
If you're wondering why the front sections of your hair can never grow past a certain point, your signature top knot or snatched back ponytail could be the culprit. Repeated tension on the same spot can cause hair to snap, so switch up your look every day to give your strands a break. Think: a low pony on Monday, Tuesday a braid, Wednesday half up and so on. And if you're still using harsh plastic bands, make the switch to silk, or try experimenting with claw clips. Giving your hair a break can make all the difference when it comes to, well, breakage.