While you might spritz a variety of products through your hair on a regular basis, have you tried a fragranced hair mist? They are the secret to getting those "Wow, you smell incredible!" comments (and to faking freshly washed strands).
While other forms of scents – like eau de parfum (EDP) or eau de toilette (EDT) – should be reserved for your body because they may contain ingredients that could dry out or damage your hair, hair mists are specifically formulated to make your crowning glory smell delicious – and often contain other hydrating and shine-bringing ingredients.
They are perfect to use in between washes to refresh your 'do or to boost the throw of your favourite fragrance and turn heads everywhere you go. Cult favourite fragrance brands often have scented hair versions of their most beloved fragrances, which can be great for trying out a scent before committing to a full EDP or EDT bottle. And some hair brands have joined in on the fun, with scented formulas that come packed with hair-loving ingredients.
Whether it's a new edition to your fragrance wardrobe or a hair-specific version of your signature scent, get spritzing to smell amazing from head to toe.
This is a hair perfume that combines the sweet scent of honey with its ultra-moisturising qualities. It's formulated with
Gisou's
signature ingredient, Mirsalehi honey, sourced from the founder's own sustainable bee garden in the Netherlands. This hard-working ingredient is rich in vitamins, minerals, amino acids and antioxidants, acting as a natural humectant to help maintain your hair's natural moisture balance – and to help you get the strong, smooth strands of your dreams. The delicate concoction of honey and floral notes combine to ensure you leave a delicious trail of fragrance everywhere you go.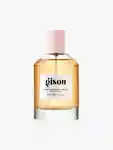 The pioneering parfumerie that is
diptyque
combines art and fragrance for truly enchanting encounters. This
hair mist
is no different, taking their much-loved tuberose-focused scent and enriching it with camellia oil to nourish your hair – so that it looks as beautiful as it smells. If you're counting down to spring for the floral revival it naturally brings, this is the scent for you. Inspired by one of the brand founders' childhood holidays in a Vietnamese seaside resort, Do Son begins with a delicate blend of blooming orange flower, rose and iris, with further notes of tuberose, pink pepper, benzoin and musk. Match with the rest of the Do Son range (including an
EDP
,
shower oil
,
body mist
and more) and this will very quickly be your signature scent.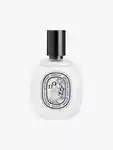 Ever been described as dramatic or mysterious? This hair mist might just be your match. Unapologetically grown-up, Musc Ravageur is a sensual combination of bergamot, tangerine and cinnamon, set against a seductive backdrop of vanilla, musk and amber. Coming from the perfume house of
Frédéric Malle
(fragrance royalty and the grandson of Serge Heftier, the founder of Pafums Christian Dior), this scent promises true luxury. And nothing could be more luxurious than topping your body fragrance with this hair version. Spritz through your strands and feel a boost of confidence.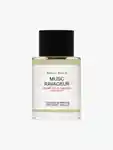 This is no ordinary rose fragrance. It comes from
Byredo
, the luxurious Swedish fragrance brand capturing emotions and memories in instantly recognisable minimalist bottles. Taking a Turkish twist on the classic floral, this rose blend is spicy and sophisticated with papyrus wood and pink pepper to ground the sweet scent of petals. Make no mistake - despite being a hair perfume, this mist packs some serious punch, with staying power that leaves hair lustrous and smelling beautiful.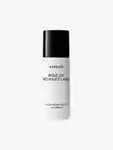 When diptyque's hair mists are this good, you'll excuse us for including two of them in this list! And Eau Des Sens is definitely worth the spot, with an oh-so-delicate blend of vibrant citrus and magnetic woody and spicy notes. It brings together every part of the bitter orange tree: branches, leaves, fruit and all. Together, it becomes an indulgent treat that awakens you with its freshness. It's just what you need to wake you up on those tired, bed head-filled mornings. And with the camellia oil that's characteristic of the brand's hair fragrances, it will shine and nourish as it scents.