Flex Mami on curiosity, beauty and how The Hills changed her life
January 1 | 48 minute listen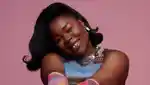 Special Guest: Flex Mami
Hosted By Kate Blythe
Originally published on | December 21
Welcome back to MECCA Talks, your access all areas pass to the beauty, business, and lifestyle experts we call our community.
In this episode, Kate chats to DJ, presenter, bestselling author, influencer, businesswoman and 'Professional Opinion Haver', Lil Ahenkan – better known as Flex Mami.
Forging a new path for creative thinkers, Flex discusses how believing in herself, understanding the power of 'aesthetics' and embracing her curious predisposition has enabled her to build brands, spark conversation, entertain an audience, and influence responsibly.
Hit play to listen as Flex shares how MTV's The Hills changed her life, lets us in on her beauty habits, and reveals her outlook on the impending new year – a.k.a. "socialite era part two."