As much as MECCA lovers adore a fresh new brand or a TikTok-hyped product launch, there's something special about a heritage beauty brand.
And this one is looking exceptional for her age – at 150 years old, Shiseido is the original when it comes to Japanese beauty.
Today, the entire collection is coveted by makeup artists and beauty lovers around the world. The appeal? A reformulated collection of reimagined, practically undetectable-on-the-skin textures in gel, ink, dew and powder paired with high-impact colours.
We spoke to the brand's global artistry creative director, James Boehmer, about the brand's approach to beauty, the process of deciding on new colours and textures and the one product he admits he created just for himself (and that Antipodean beauty fans have fallen hard for).
When it comes to developing such an innovative makeup range, Boehmer says it's always fun but can also be tricky trying to edit down products. "We do a lot more in development than what launches," he told us, "which is part of the fun. I think editing in general is the hardest thing. I want more colour, more product… an endless amount of choices. It's the biggest challenge." We can certainly relate. And once you've read our Shiseido round up, you will too.
There's weightless foundations, and then there's Shiseido's Synchro Skin Radiant Lifting Foundation – yes, lifting. What does this mean exactly? The innovative formula works to adjust the reflection of light to make skin appear lifted, refined and smoother with a luminous finish. This is achieved by targeting the three major obstacles that impede radiance: fine lines and wrinkles, uneven skin tone and dehydration. The hydration is delivered through an exclusive blend of humectants, those powerful substances that bind water to the skin. And the radiance? It's a blend of transparent pearls and microcrystals (yes, really) that accentuates contours and adds flattering depth to your face. As Boehmer explains: "We wanted a foundation that still looks like skin and has a natural finish and vitality and that looks alive."
Once applied, the lightweight formula resists heat, humidity, oil and any slip caused throughout the day by facial movement. With a feeling of instant hydration once applied, this is an especially good option for sensitive skin types. In terms of coverage, it's completely customisable. "You can apply it with your fingers for a really natural look, or if you want more coverage, you can apply it with one of our tools – it builds really beautifully," says Boehmer. Instant-blur, here we come.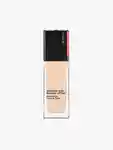 Not quite a cream, but not a traditional powder, this hybrid cheek product is somewhere in between with a deliciously lightweight whipped texture. The mousse-like formula transforms into an ultra-thin, featherlight powder with a soft matte finish that lasts all day. It's a texture unlike any other, the result of experts coming together to share the creative process, says Boehmer. "When you get in the lab with the chemists and start developing products, you get the colours and the textures and you start playing with them, using them and putting them on different skin tones. I like giving them to friends and asking, 'what do you think?' – the process is really quite amazing and fun."
The key ingredients in this one include film-forming resin which helps the colour to adhere to the skin with ease and flexible silicone powder which creates a silky feeling that never looks dry.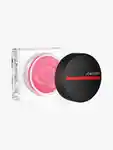 I wanted very pure pigment and colours that were inspiring to use
If the words 'ActiveForce™ Technology' make you think we're talking about something from a superhero movie, think again. Or don't – this buildable finish powder actually is something of a superhero. It has been created to help resist heat, oil, humidity and any slippage throughout the day. And most importantly, the technology means this clever finish powder prevents creasing or wearing out (so you won't have to run off to, literally, powder your nose every five minutes).
On application, it instantly brightens the look of skin and masks any dullness or discolouration, sans a heavy feeling or caking. You can apply it wet or dry, and you'll see how it sinks into skin to form a smudge-proof, stay-all-day, weightless coverage base. With wild thyme extract to help fade the appearance of fine lines and smart correcting powder that gives skin a blurred-like finish, you'll want one of these handy compacts within reach at all times.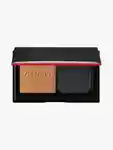 This four-in-one product is unlike anything else. Whether you're time-poor or want to experiment with vivid colour, the smudge-proof, crease-proof and waterproof pigment of this eyeliner, kajal, eyeshadow and brow colour creates any type of eye look (with 12 hours of wear to boot). Boehmer speaks fondly of this product, sharing how he was inspired by the traditional colours of Japan during its creation: "I wanted very pure pigment and colours that were inspiring to use, like a very rich black and the perfect taupe-y brown, inspired by the traditional tea house ceremony. It's the first range I finished and it really captures the spirit of ancient and modern Japan. And from an artistry point of view, the formula, ease of use and precision of the product just made it the perfect eye product."
To really experience what this product has to offer, try applying the fine point smoothly along the waterline of the eye or scribbled across the entire lid. Then try blending out the colour with the built-in sponge for an effortless smoky eye – no brushes needed.
Another brow product in the lineup that Boehmer loves is the Brow Ink Trio. "I have to say, selfishly, it's the product I made for myself! I'm thrilled to see that it's one of our bestselling products globally," he says, adding, "in my work as a makeup artist, I feel like the brows are the part of the face you can change the most with makeup – you can cover them, bleach them, make them full or straight. You can get so much uniqueness of character out of the brow. I developed this product so that people could have one thing that they could carry; you don't need an individual brush or a gel or a powder. Instead, just pencil on one side, a powder in the middle and a brush to blend."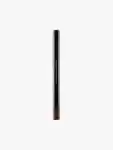 Now, onto the lips – and with this two-in-one lip liner and primer, you'll have your lips down to a one-product art. While most of us happily use a primer before applying foundation, we have to admit that we don't always do the same for our lips. But just because the lips don't produce any oil, doesn't mean they don't need to be primed – in fact, all the more reason to ensure they are hydrated and smooth, ready to make the most of this creamy pigment pencil.
The LipLiner Ink Duo consists of a dermatologist-tested, non-drying primer that is creamy in texture and long-lasting, with the other is a fine-tipped pencil to layer under your lipstick or tint, or wear solo. It's the perfect balance of pigment and hydration!