We've all come to terms with the fact that one size does not (and never did) fit all, so why aren't we applying the same logic to our eyelash curlers?
MECCA makeup, hair and artistry education manager Jennifer Horsley refers to eyelash curlers as 'push up bras for the eyes', but notes that to get the very most out of one (significantly boosting the results of your favourite mascara), it's important to use a curler with a curve that's actually suited to your eyes. It'll also make the process a whole lot easier, especially if you find curling your lashes a little daunting. Here's the lowdown on the best eyelash curlers for round, monolid, almond, small and hooded eyes.
Like Katy Perry and Sarah Hyland, you have large, prominent eyes in a more circular shape, and can typically see a lot of white around your iris. You need an eyelash curler with a strong curve to ensure you're curling evenly and from the root – anything too flat can cause a crimped effect! For rounder eyes, Horsley recommends the Kevyn Aucoin Eyelash Curler. "It has a rounder curved edge to really lift the eye, and the curve makes it easy to lay at the root of the lash for maximum curl and lift on any length of lash."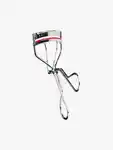 For elongated and monolid eyes:
If you have a straighter, elongated lid shape, like Awkwafina or Chrissy Teigen, a flatter curler will ensure you're catching all your lashes in one go, rather than having to try angle your face or curler in a finicky manner to ensure your lashes are going in the same direction. Horsley suggests reaching for Shiseido's Eyelash Curler: "It has a remarkably flatter shape and is great for straighter, shorter lashes. It really creates a natural-looking curl and lift, and is easier for a smaller eye to navigate." Plus, she mentions that the eye curler pad is "super cushy," perfect for catching hard-to-reach lashes.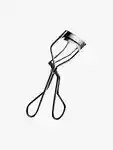 Similar to Rihanna, Mila Kunis and Kim Kardashian, your eyes resemble the smooth, oval shape of the almond nut. The tops and bottoms of your iris graze your upper and lower lash lines, giving you a naturally sultry look. If you can relate, Horsley recommends the Surratt Relevée Lash Curler, which is "much wider and flatter with a slight curve," making it easy for almond eyes to "lift certain areas to create a cat eye or wing effect with their lashes." The eye pad is "so cushiony on this," says the MECCA makeup guru, adding, "you feel supported when using it."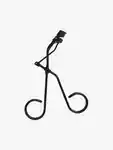 If you have a hooded eye shape like Blake Lively or Jennifer Lawrence (where your mobile eyelid is either not visible or barely visible when your eyes are open) you can elevate your beauty look by letting your lashes do all the talking. Pair perfectly curled lashes with a volume enhancing
mascara
, and take a subtle approach with
eyeshadow
. You can turn up the drama with an eye-popping curl by using the MECCA MAX Lash Curler, which delicately hugs each lash for a smooth and even effect.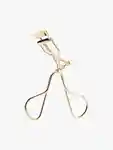 Small eyes – think Renée Zellweger and Taylor Swift – can still have a dramatic impact! Eyelash curlers with a medium curve are best for this eye shape, giving your lashes a sky-high lift for the ultimate bright-eyed effect. Try the Lilly Lashes Matte Black Lash Curler; it will grip onto every lash to give you a long-lasting curl. Tip: want to make your eyes pop to the max? Apply your favourite
highlight
to the inner corners of your eyes after your mascara application to complete your look.