Mascara – it's arguably the MVP of any makeup routine. Which just makes it even more important to find the right formula for you...
Mascaras have had a glow up in recent years. With more choices than ever before, no longer do we have to settle for clump-prone, flake-inclined, smudge-able formulas. There's a lash-boosting formula out there for everyone, ready to be tailored to your desired look. Want to prioritise big, bold, black lashes (and not so worried about a bit of clumping)? There's a volumising mascara for that. Looking for a barely perceptible level up on your natural lashes? Go for a lengthening brown mascara! Need an everyday essential that lasts for hours but is easy to wipe away with warm water? A tubing mascara might be for you.

All these choices can make it hard to know exactly which formulas you can rely on – and that's when it's time to turn to an expert! Or three experts, to be exact. In a quest to discover the game-changing mascaras that do the most, we tapped the makeup panel of the MECCA Beauty Board. Scroll down for a peek at the mascaras that have changed their makeup game (and their lashes) for the better. From the truly indestructible formula that lasts through just about anything to the best brown mascara for a more natural look, these are our expert's favourite mascaras of all time.
Jennifer Horsley, Head of Artistry at MECCA
What makes a mascara 'game-changing' for you?
"To me, a game-changing mascara has a real wow factor – whether that's a new type of brush or formula, or if it performs a very particular function. That could be anything from really separating lashes, holding a curl, lengthening, thickening or being easy to layer without clumps.
"I believe I've tried nearly every mascara on the market in my role as a makeup artist and when helping with product development, so I'm very discerning when it comes to formulas! Honestly I could talk about mascara forever, it is my most used beauty product and has the ability to instantly instill confidence. It really is that one beauty product that can have the biggest impact on a look, and I think we're all continuously searching for the perfect formula."

Which mascaras have changed your lash game?
Chantecaille Mascara Faux Cils: "This is definitely one of the most game-changing mascaras in my books because of how beautifully it builds up, while the added rose oil helps to condition lashes at the same time. I also love this to layer on top of any other mascara you're wearing – it basically refreshes your lashes!"
Kevyn Aucoin The Volume Mascara: "An original game-changer, this was one of the very first tubing mascaras on the market! Not only is it smudge-proof, but the smaller brush also makes it possible to get in and coat every single lash you have with ease."
Lancôme Hypnôse Volume-a-Porter: "A newer addition to my list, this has been on high rotation in my kit thanks to the major length, volume and drama it adds, all while still effectively separating lashes."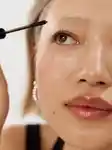 Pictured: Kevyn Aucoin The Volume Mascara
Hannah Daniel, Makeup Education Manager at MECCA
What makes a mascara 'game-changing' for you?
"With so many mascaras out there, it takes a lot to get my attention. A game-changing mascara must have something unique about it, but not just for show – that special feature has to really serve a purpose.
"The other key element for me is durability; I want something that's super durable!"
Which mascaras have changed your lash game?
Hourglass Caution Extreme Lash Mascara: "This is the mascara that really has my heart. I love the narrow wand, which allows me to get excellent separation and length. On top of that, it has amazing durability and never gets clumpy."
ILIA Limitless Lash Mascara: "The distinctive wand on this mascara has two different sides, which allows you to really customise how your lashes look. It's also got an ingredient called arginine, which is often found in haircare and can help to nourish and strengthen your lashes."
Lancôme Grandiôse Waterproof Mascara: "Two words: truly indestructible. This is the one I reach for whenever I need my mascara to be on all day and into the evening. I love using a waterproof formula when I need my lashes to hold a curl or when they're supporting some false eyelashes. The wand of this mascara is also angled, which really helps to get into the inner corner and fully coat those difficult-to-reach lashes."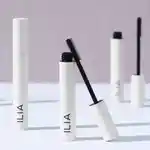 Pictured: ILIA Limitless Lash Mascara
Mason Whitton, Colour Specialist at MECCA
What makes a mascara 'game-changing' for you?
"A game-changing mascara for me is a product that doesn't transfer to my eyelids, is easy to remove and provides effortless volume and length to my lashes."
Which mascaras have changed your lash game?
Hourglass Unlocked™ Instant Extensions Mascara: "This mascara has a tubing formula that's amazing for hooded eyes that are prone to transfer. It doesn't smudge or smear and removes effortlessly with warm water, keeping lashes strong and healthy. It also builds on itself easily for either a soft natural look or a thick, dramatic look. It's my number-one mascara for myself and clients with short lashes or sensitive eyes!"
NARS Climax Mascara: "It's a cult classic for a reason! This formula provides effortless, clump-free lashes that wear all day and never smudge. I love how the specially designed bristles in this brush help to separate each individual lash, lifting and curling them."
Too Faced Better Than Sex Mascara Chocolate: "This formula changed the game when it comes to brown mascaras. This is my go-to mascara for that soft, natural eye look. Similar to the original Better Than Sex Mascara, it provides lift, volume and length – but now it comes in the perfect shade of chocolate brown! It's great for clients who prefer a 'no-makeup makeup' look or those with auburn hair."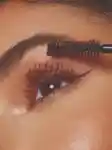 Pictured: Too Faced Better Than Sex Mascara Chocolate