Searching for makeup that married brilliant payoff with organic ingredients and rigorously tested synthetics, Sasha Plavsic wound up creating ILIA, an ahead-of-its-time makeup brand that bridges the gap between performance and a purpose-led ethos.
The story of what led Plavsic to start her boundary-breaking beauty business is pretty dramatic: she broke off her engagement, walked out of her job and moved back home to live with her parents in Vancouver, Canada. Soon after, her mum promptly got on her case about her skin (we've all been there!).
"On returning home, my mum asked if I knew what was in my cosmetics," recalls Plavsic. "I started researching the ingredient lists on the back of the boxes and I was shocked… The challenge was set to create a more organic version that was safe and worked."
That was the impetus for the creation of ILIA in 2011, which today counts Miranda Kerr, Marion Cotillard, Thandie Newton and Dakota Fanning among its devoted fans. Named after Plavsic's great-grandfather, who worked as a women's shoe designer, the brand combines performance with a holistic approach using naturally-derived and certified organic ingredients that deliver impressive payoff, and come housed in sleek, luxe packaging that basically demands it be shown off on your social media feed.
Plavsic tells MECCA, "[I was] driven by a personal interest in creating products that would protect and revive the skin. ILIA uses ingredients that are safe, effective and have exceptional payoff." And for bonus points? ILIA is also a vegan-friendly brand.
ILIA was a pioneer in creating skin-centric beauty products.
Her mother's questioning wasn't totally out of the blue. After Plavsic's younger brother was diagnosed with acute asthma and allergies, and was facing an indefinite hospital stay, she sought out alternative strategies to help manage his symptoms (update: her brother is well, and is now Plavsic's business partner at ILIA!). "I was lucky enough to grow up with a mum who was a pioneer in organic and natural practices," says Plavsic. "Wellness is about nurturing your needs, so you can feel better in your life, and who doesn't want that?"
Lip balm was the first product launched, and since then, ILIA has branched out to include a full complexion and colour range, all made with botanicals and proven ingredients. "The formulations are not only free of harmful additives, but also enhanced with active levels of skincare ingredients that help protect and revive the skin," says Plavsic, who's now based in Los Angeles. "Some of our products are all naturally-derived, however in other product categories we introduce small amounts of synthetics to enhance the performance and wear."
This last point is crucial when talking about beauty: "It's important to note that in beauty, not every natural ingredient is good for the skin, nor is every synthetic bad," Plavsic explains. "It usually takes a combination of both to be able to create an outstanding product."
And because ILIA is a thoroughly modern beauty brand, Plavsic is taking steps to ensure she's impacting your beauty routine and the planet in a positive way, too. The brand uses recycled glass, aluminium and paper in its packaging, and all products are cruelty-free certified. ILIA has also partnered with PACT Collective to 'recycle the hard-to-recycle' and has an ongoing partnership with 1% for the Planet, an organisation whose members pledge one percent of their annual sales to environmental causes.

Cosmetics, but not as you know them
Some plant-derived cosmetics don't have the best rep when it comes to things like coverage and longevity, which is what sets ILIA apart. The entire ILIA lineup is about easy-to-use products that perform, like the cult True Skin Serum Foundation: this skincare-makeup hybrid (it's made with nourishing aloe leaf, rosehip, jojoba and marula oils) offers weightless, highly buildable coverage that really does go the distance.
Another must-have is the Multistick which delivers flattering, subtle colour to cheeks, lips and eyes, and works as well for the office as it does the weekend.
"We consider ILIA to be makeup that breathes and offers light to full coverage, yet never looks like heavier makeup," says Plavsic, who, as you might expect, is often seen sporting a natural-looking base and vibrant lip colour. "I think most women like the flexibility and for their skin to look like skin."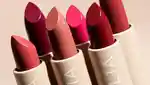 Makeup-meets-skincare may be everywhere these days, but that wasn't the case over a decade ago. "ILIA was a pioneer in creating skin-centric beauty products," says Plavsic. "A real challenge when you are starting from scratch is that you have nothing to work with in terms of existing resources or building blocks."
When it comes to beauty, Plavsic says consumers should start as she did – by reading the ingredient list on the back of the box. "It's easy to claim something is natural, green or organic, but the question is how much of the product is natural, and if it's made with organic ingredients or certified organic, which are two different things," she explains. Performance is also key, with Plavsic emphasising that the products should be "closer in texture, performance and feel to what the consumer is used to in a conventional product, if not better."
Looking ahead, Plavsic wants to maintain her brand ethos. "At ILIA's core is transparency, which we value at every level of the brand, from the products that we create to be safe and effective with ingredients that impact the skin on an active level, to our long-term goals for sustainability and the companies we choose to partner with, as well as the way we incorporate these values within the company every day, with our employees and at home," she shares. "These values are important at ILIA, and within my home as a woman, wife and mother of two."