Conserving Beauty might be a Melbourne-based startup skincare brand, but they're on a big (read: huge) mission to reduce the beauty industry's water footprint.
How? Thanks to groundbreaking waterless innovation and conservation research, they've become Australia's first waterless beauty brand, meaning absolutely no water is used in the production of their products. None! Plus, the brand is backed by Australia's first all-female board, which includes iconic supermodel and businesswoman Elle Macpherson.
Launched in 2021, this newcomer to the scene is truly making waves in the beauty world; the brand launched the world's first fully dissolvable makeup wipes, InstaMelt™ Deep Exfoliating Day Dissolver Wipes, which was swiftly picked up by the TikTok trend cycle and sold out just two weeks after launch. Naturally, we had to hear more about the incredible journey so far from Conserving Beauty's founder, Natassia Nicolao.
It was clear to me that the world didn't necessarily need another beauty brand, but it did need a water conservation movement that could create change within the beauty industry.
Why the focus on waterless beauty?
With a Bachelor of Science degree and a background in ethical sourcing, supply chain and product development within the beauty and wellness industries, it was Nicolao's personal mission to unite her love for beauty with her passion for helping the planet. "It was clear to me that the world didn't necessarily need another beauty brand, but it did need a water conservation movement that could create change within the beauty industry," she explains.
"There's been lots of positive action talk about 'conscious' beauty, but recyclable or refillable packaging is only the beginning. As an industry that remains heavily reliant on water at every stage of the product lifecycle – not to mention most [beauty] products are 70 to 90 percent water – water conservation should be a focus."
With guidance from the United Nations' Sustainable Development Goals, Conserving Beauty has reimagined a standard beauty product's lifecycle with the goal to conserve our most precious resource, water.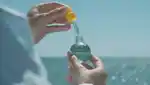 This is a beauty brand that's serious about sustainability, and it's evident in every element of what they do. From the (obvious) fact that their products are formulated without water to the compost-friendly cartons made in Melbourne from 100 percent post-consumer waste and the transparent traceable supply chain where all ingredients can be traced back to the growers, Nicolao says that to her, "conservation is about considering an entire product lifecycle".
At the same time, Nicolao believes choosing products that care for the Earth shouldn't cost the Earth. "We create waterless skincare designed for real life, to celebrate and elevate your everyday routine with products you'll actually love using and each at an affordable price point," she says.
Each of the brand's products contain 13 or less powerful ingredients that are proven to support skin: "We focus on formulas that bring together the best of science and nature, never messing with the scent, colour or performance of each ethically-sourced ingredient."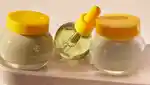 The women behind the brand
"Throughout my career, I've been incredibly lucky to have learnt from a group of entrepreneurial female leaders," explains Nicolao, adding she felt it was important to continue surrounding herself with mentors, which is why she set up a strong female board to guide Conserving Beauty.
"Each have disrupted a category and run their own business in the past so they can relate to what I'm going through on a day-to-day basis but also have the exceptional experience to strategically advise our long-term strategy," she says.
The board, which is also the first all-female board in Australia, includes digital maven Traci Maddock, who also advises Dr. Barbara Sturm and the Beckhams, Kerri Lee Sinclair who founded and sold a startup to Microsoft in her twenties and Australian icon Elle Macpherson, who said when asked about her position: "After mentoring Natassia over the past few years, it's an honour to join the Conserving Beauty board and continue to support her journey. Natassia is one of the brightest entrepreneurs and young CEOs I've met and I know she will make a huge impact on our community and planet."
Conservation is about considering an entire product lifecycle.
Nicolao confesses that her favourite product is always changing based on her schedule or skin concern: "When I'm super congested the Sea Your Glow Mask gets extra usage and love. At the moment, InstaMelt™ Deep Exfoliating Day Dissolver Wipes are my current favourite because they took so long to develop, and we are so proud to finally share them with the world. Plus, they have been a huge timesaver to quickly dissolve my makeup after work or on route to the gym."
If there's one Conserving Beauty product to add to your kit, she recommends the Conserve You Face Oil "because it's the perfect all-rounder, helps boost hydration, soothe skin, protects from environmental aggressors and sits super lightweight under your SPF and makeup routine".