A gym for your face? Inge Theron on revolutionising the Hollywood facial
January 1 | 64 minute listen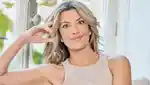 Hosted by Kate Blythe
Originally published on | February 1
Welcome back to MECCA Talks, your access all areas pass to the beauty, business, and lifestyle experts we call our community.
In this episode, Kate is in Sydney with Inge Theron for the much-anticipated Australian launch of FaceGym – the celebrity-loved brand responsible for putting facial fitness on the map.
Based on the notion of training the 40+ forgotten muscles in the face to deliver instant and long-term sculpting, lifting, toning, and brightening results, FaceGym has transformed the concept of a facial globally, with cult-status facial workout studios and tools, devices and skincare formulas unlike anything else on the market. Bella Hadid, P. Diddy, Nicole Kidman and Lizzo are just a handful of their famous fans.
Hit play to hear Inge's incredible story – from journalism and boardgames to changing the face of skincare. Then, get the full FaceGym experience at their newest studio in our Sydney Flagship, or shop the brand online and in select MECCA stores.