If 'go to the gym more' made an appearance on your resolutions list this year – again – then prepare yourself.
With the launch of next-gen skincare brand FaceGym at MECCA this year, the whole concept of exercise is getting a facelift (excuse the pun.) And it's one every beauty obsessive can get behind…
Yes, it's an exercise routine for your face! You can do it at home, there's a dedicated line of products to support the workout, and, for the full experience, the first FaceGym studio in the southern hemisphere is now open at the MECCA George Street flagship in Sydney.
"There's no heavy lifting involved," promises founder Inge Theron. You won't even need your activewear. Instead, FaceGym draws on Theron's personal experiences gleaned from over a decade of writing as 'The Spa Junkie' for UK newspaper The Financial Times. Curious? Read on to learn more about how Theron brought FaceGym to life…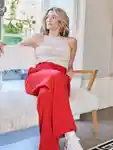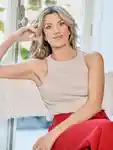 "A procedure left me housebound"
"During my time as a journalist, I tried and tested multiple (often invasive) procedures that left me suffering the impact of 'injectable abuse'," Theron says. "It wasn't until one particular face-lifting procedure left me housebound that I realised enough was enough, and I decided there must be a better way to age confidently and beautifully. That was my 'eureka moment' and the start of FaceGym coming to life."
I always say we're not in the beauty industry, we're in the confidence-boosting industry – and that spans every age.
"Face muscles are the same as the muscles in your body"
FaceGym's revolutionary approach to training the facial muscles just made sense to Theron: "I'd been thinking about the body and the gym and the endless benefits we see for our muscles and skin when we regularly work out," Theron remembers. "And I thought, 'Why don't we do the same for our faces too?' Our face is made up of more than 40 muscles. If you train the muscles in your face consistently, it can help to prevent sagging. I want people to realise that the face muscles are the same as the muscles in your body. You need to adopt a facial fitness routine just like you do in the gym."
While Theron's career had given her an extensive knowledge of the skincare and wellness worlds, it was a long road from lightbulb moment to FaceGym's launch. "I worked with every expert imaginable, from scientists, 'biohackers' and holistic therapists to physiotherapists, doctors, scientific formulators and tool technologists; they all supported me, and together we made the FaceGym dream a reality."

"The breakthrough success came from the celebrity fans"
"The first 12 months were really tough," Theron says of FaceGym's early days. "One vivid memory I have is being seven months pregnant and traffic stopping in [UK department store] Selfridges to try and get people to come to the pop-up and try a workout. During the first year of the brand, I essentially had three babies: my two young daughters and FaceGym."
But the workout's turning point came via a surprising plot twist. "The breakthrough success really came from the celebrity fans," Theron tells us. High-profile actors and models like Kaia Gerber, Nicole Kidman and Elizabeth Olsen are all converts of the regimen, incorporating it into their pre-red carpet routine for events like the Golden Globes and Oscars.
"They tried it, loved it, and started spreading the word about this new 'gym for the face'," Theron remembers. "It snowballed into a huge deal! From then on, we took off on an incredible trajectory. The community was growing by the day, the bookings were flying off the system – we had waitlists to get people into the studios! It was a ride, but I don't have any regrets and wouldn't change anything."
"It's not a facial, it's a workout!"
So, what exactly happens when you step foot in a FaceGym studio? For one thing, Theron promises you won't even break a sweat – instead you'll select from a menu of workouts targeting your specific concerns. Although FaceGym is founded on the same principles of training muscles to help strengthen and maintain their health, it's nothing like a traditional gym.
"You are completely in the hands of our expert trainers who do all the hard work for you – you really can just sit back, relax and reap all the benefits of this type of workout without a dumbbell or treadmill in sight." The dream!
"We deliver deep tissue muscle manipulation to help train the facial muscles, aiming to lift, sculpt, tone and tighten the face like never before," Theron explains, with the aim of instantly visible results and long-term benefits. You can expect signature moves including knuckling, pinching and whipping strokes (don't worry, it's not painful!), paired with FaceGym's signature line of skincare products.
"These techniques and products help to encourage collagen, stimulate the skin and boost radiance."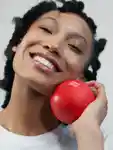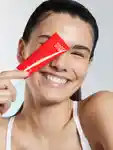 "It's exactly like running on a treadmill in the gym"
Just like a gym workout, FaceGym sessions are designed in sections. Each workout begins with a warm-up to boost blood circulation and 'start up' the muscles. Then you'll move onto cardio, using the fast whipping techniques Theron describes as "exactly like running on a treadmill in the gym." And like all good workouts, you'll end with a relaxing cool-down, featuring "softer sweeping and draining movements."
"We're not in the beauty industry"
The best part of FaceGym, according to Theron, is the post-workout high that she describes as "like that kick-ass, empowered feeling you get when you leave the gym, but for your face." And that's the brand's true MO. "Celebrating and embracing ageing is a huge part of our ethos. It's why the brand came to life. I always say we're not in the beauty industry, we're in the confidence-boosting industry – and that spans every age. It's never too late to start adding facial massage into your daily skincare routine."

"It's the ultimate everything workout"
With a decade of spa treatments under her belt, there's very little Theron hasn't tried personally. When it comes to her own FaceGym routine, she likes to switch it up depending on what her skin needs that day – "if I have a big event coming up that night, the 'Clean & Lift' gets me red carpet ready in minutes" – but there's one FaceGym workout she can't go past. "My personal favourite is the workout I've coined the 'I Need It All,' which I'm thrilled to be launching exclusively in Australia for our brand-new studio at the MECCA George Street flagship. It's the ultimate everything workout. It includes our legendary collagen-boosting massage techniques and results-driven, award-winning skincare, with the added extra of radio frequency and a cryo hit of high-pressure frozen CO2, finished with a tension release neck and shoulder massage. It's only available in MECCA, so you really won't find this anywhere else!"
"Think of skincare as the nutrition"
If you aren't lucky enough to live within the vicinity of a FaceGym studio, we've got good news. The brand's dedicated skincare line is available in-store and online at MECCA, and with a suite of workouts you can do anywhere, FaceGym can come home with you – no matter where you are in the world. "We think of skincare as the nutrition – the fuel you need to train your skin when you're working out in order to see consistent, visible results," Theron says. "Our approach and philosophy when it comes to skincare is all about collagen and innovation. We're pack leaders (not followers), and we're always at the forefront of cutting-edge ingredients and formulas when it comes to skincare. We won't just jump on a trend because it's the latest hot ingredient."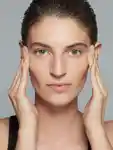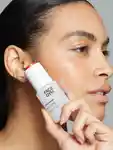 So how did this beauty entrepreneur revolutionise the way we do skincare? She says it's all about dedication. "You can't be half in. You have to be 100 percent fully committed. I've always been an early riser – my usual wake-up time is around 6:15am. I like to get up a bit before everyone else to give myself an hour to get ready for the day before my girls wake up around 7am. My morning routine mainly consists of meditation, manifesting, journaling and chanting. I do these things every morning to make sure I start my day in the best possible mindset and to set myself up for a successful day ahead. Taking time for yourself every day is so important, whether that's in the morning or in the evening. Just five minutes of 'you' time can make all the difference."
And if that five minutes includes a FaceGym workout, all the better!