Your sunscreen FAQs answered, and the business of SPF with Naked Sundays' Sam Brett
January 1 | 47 minute listen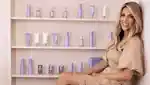 Hosted by Kate Blythe & Zara Wong
Originally published on | January 26
Welcome back to MECCA Talks, your access all areas pass to the beauty, business, and lifestyle experts we call our community.
In this episode, Kate and Zara catch up after the holiday break to get into the nitty gritty of SPF as we reach those dreaded 40C days.
Sydney dermatologist Dr Shreya Andric (B. MED. SCI, MBBS (HONS), IFAAD, FACD) joins us to debunk the most common SPF myths, share her top skin safety tips and get us clued up on the ABCs – and Ds and Es – of what to look out for when detecting a potential melanoma.
Then, Naked Sundays founder Sam Brett enters the chat to take us on her journey from acclaimed columnist, journalist and bestselling author to undercover sunscreen brand founder. Her greatest success to date? The near-impossible SPF50+ Hydrating Glow Mist, which saw Brett meet her year-one target in a single day.