Television journalist, media commentator, bestselling author and once-anonymous beauty brand founder Samantha Brett has a resume unlike many.
When she revealed herself as the brains behind Naked Sundays, the lilac-packaged SPF brand taking Instagram by storm, Brett put her journalism career on hold to create sun protection formulas unlike anything on the market. And it all started with an SPF 50+ mist* that she was told would be impossible to create.
Like any startup founder with a story to tell, Brett began by finding a gap in the market for a skincare-style SPF that would play nice with makeup. When she couldn't find one that satisfied her needs, she decided to make it herself.
But the road to SPF is a bumpy one, particularly in Australia, where our regulations are stricter than most thanks to our high rates of skin cancer. Here we speak to the inimitable Brett about 3am alarms, not taking no for an answer and why a MECCA voucher is the only thing on her wishlist.
With a beauty routine that starts at 3am and a career that sees her on camera most days, Brett had long been fascinated with the challenge of making her skin look natural and glowy on camera, while ensuring her makeup lasted all day under heavy lighting without looking 'overdone'.
"I've been on the road as a breaking news reporter for over a decade, reporting on everything from bushfires to floods, murders, the weather, red carpets, you name it, all while standing in the sun for hours on end. After seeing two of my news colleagues have skin cancers cut out of their faces, I started to look into how to top up your SPF over makeup, without ruining your look." She didn't find much. "When I couldn't find anything on the market, I knew the time was right to start developing my own line."

From conception to landing on the winning formulation (and smart, stable packaging), Naked Sundays' SPF 50+ Hydrating Glow Mist took about two years to create. "When chemists and formulators said an 'over-your-makeup' SPF mist with hydrating skin properties that was mattifying, setting and SPF 50+ couldn't be done, I knew I had to keep going."
As for the SPF 50+ Collagen Glow Crème, Brett's inspiration came from personal demand. "As a working mum with a 3am alarm, sometimes I just want one multitasker to put on my skin which includes SPF but could also act as my moisturiser and hide a few sins from being up all night," shared the founder, adding that her predisposition for adult acne meant that whatever she formulated had to work on sensitive skin (and eyes) and not cause breakouts.
What you need to know about Naked Sundays' SPF
Made by and for working mothers, makeup lovers and skinimalists, Naked Sundays' collection of protectors are famously multipurpose, so you rely on them on both full-makeup and no-makeup days, while benefitting from the perks of vegan collagen. "It's my hope that the next generation will move away from expensive 'correcting' skin procedures and move more towards a simpler, cheaper and more effective preventative product in SPF."
The founder reaches for her brand's SPF50+ Crème or Lotion every morning as her moisturiser and primer. "My tip is to really work it into the skin with our SPF BFF Brush," she shares, noting that the brush was developed with ease, finish (and sticky fingers!) in mind. "It gives a subtle glow without being greasy or oily and doesn't look like you're wearing makeup but gives a hint of colour and blurs any imperfections. Any makeup over the top will sit smoothly and perfectly, but I find myself not needing as much foundation."
"Right before I leave home I use our mist as a top up and keep one in my bag, in the car and in my daughter's school bag for regular top-ups. I clip my hair back before I spray and make sure to close my eyes and mouth and keep them closed for a few seconds afterwards so the mist sets properly."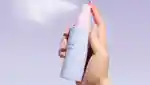 Sun protection innovation aside, we can't help but love the fact that Brett is just as much a beauty obsessee as the rest of us. "All my friends know if it's my birthday or a holiday then all I want is a MECCA voucher."
As for her own skincare routine, before sunscreen (SPF 50+ Collagen Glow Crème on makeup days and SPF50+ Collagen Glow 100% Mineral Perfecting Priming Lotion for no-makeup days) comes a sonic cleanse, and at night, Brett will reach for skincare favourite Dr. Dennis Gross Advanced Retinol + Ferulic Intense Wrinkle Cream religiously. She also uses RéVive's Le Polish Micro-Resurfacing Treatment twice a week and Dr. Dennis Gross' Spectralite Faceware Pro LED device whenever she has a spare few minutes.
Makeup-wise, Brett loves Ellis Faas Skin Veil or Kosas Tinted Face Oil for her base and Charlotte Tilbury's Beauty Light Wands on her high points. "So I don't need to worry about mascara running, Brett shared, "I have gotten very good at applying false lashes," her favourite being MECCA COSMETICA'S. "They open and accentuate my eyes for the camera and give instant glam." Hourglass' Ambient blush, bronzing and illuminating powders are the founder's must-have to finish off any look.
*Use wisely. Always check the label for directions. Avoid prolonged sun exposure and wear protective clothing, eyewear and a hat. Reapply as directed.