With over a decade and half in the industry, Zoë Foster Blake knows beauty.
From working glossy magazines and creating a highly successful blog fruitybeauty, to eventually becoming an author, there's no serum, device, or brow tool she hasn't tried. Not only does it make her very qualified to hand out advice on the topic, it's also what led her to start her very own (extremely popular) beauty brand.
Go-To Skincare
was her answer to the clean, simple essentials she felt missing from the shelves. Flash forward five years and we can hardly keep the shelves stocked, it's so popular. We caught up with Zoë, the ultimate beauty maven, to peek into her routine and answer the question on every fangirl's lips: what's in her Go-To regime? Read and take note.
Remember: UV doesn't quit just because it's not summer. SPF every day please.
Can you tell us about your skin care routine?
"It's basically just variations of nourishment, exfoliation and protection. In the morning I cleanse with Properly Clean, then apply a vitamin C serum, then Face Hero for antioxidants and a dewy complexion. Next is SPF, then makeup.
At night, I use an oil cleanser if I'm wearing a lot of makeup, then Properly Clean. After that, I exfoliate with Exfoliating Swipeys, or if my skin needs a bit more help, a glycolic toner or treatment, before Face Hero and Very Useful Face Cream.
"I use our Transformazing sheet mask before shoots or events, or if I have been on a flight, or my kids have woken me up 400 times overnight and I feel like a piece of bark. It gives instant plump, glowy-looking skin. Once a week I do a deep clean mask followed by a nourishing mask. I try to get a facial every six weeks, with a focus on microdermabrasion, masks and LED. I'm considering some microneedling for my pigmentation, but living in Australia, it's almost impossible to sustain the benefits of any melanin-focused treatment because: UV. Sigh."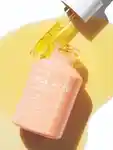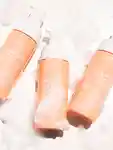 Can you tell us about your makeup routine?
"If I'm with the kids or it's the weekend, I use SPF, then a brightening, creamy concealer under my eyes and over my pigmentation. I push in some cream or liquid blush on the cheeks (I just tried NARS Liquid Blush), fill in, brush up and set my brows (with Hourglass Arch Brow Sculpting Pencil and Fiber Gel), apply lip balm and then I'm zingy enough to look like I care, but with minimal time investment!
"No mascara currently as I am back into lash extensions after a year off. I found with a curly fringe they were a bit much. But I love them again. I get size eights for volume, not length. I feel done as soon as I wake up, it's a big timesaver. When I don't have them on, it's Kevyn Aucoin tubular mascara. I cannot, and will not, tolerate under eye smudging.
"If I'm working, I use SPF then the MECCA MAX Illuminating Primer before NARS Sheer Glow all over, including eyelids. I sponge on under-eye concealer, then I pat on a liquid cheek luminiser and cream blush. I set it with a dust of burgundy powder blush, or non-shimmery bronzer, and do the bridge of the nose, too. A wash of pinky brightening shadow windscreen-wipered over the eyelids makes me feel alive and awake, and it's quick. On the lips, it's either lip balm, or a pop of bright orangey-red. I favour long-lasting glosses or crayons – a bit of sheer colour and staying power. Poyfect."
What about hair? You've recently let your curls fly free (kudos, from one closeted curly-haired girl to another) – can you tell us about this transition and the products or techniques you've found to work best for curly hair.
"I let my curls out for a solid year, which is something I'd never done, and I realised it all came down to the fringe. My curls need a fringe to look finished. I would double wash, then spray in a leave-in conditioner on the ends, add some curl balm all over, then diffuse with my hairdryer. That was it! It was so easy. I could skip the diffuser and just scrunch, too. Literal wash-and-go hair. A lifetime first for me. But every fringe has its expiration date, and I'm now growing it out. Back to smoothing creams and blow-drying. It's dull already. Thank god hair clips are in, I wear some everyday. Functional and jazzy!"

What products do you recommend adding to your routine now the weather is getting chilly?
"
Face Hero
under your face cream or SPF is the easiest way to quickly boost hydration and protect the skin's barrier. Lips! is also a very replenishing and protective staple. Also, get liberal with your nourishing mask. I use or sleep with one on about one to two times a week. And remember: UV doesn't quit just because it's not summer. SPF every day, please."
What products might we find on Hamish's side of the beauty cabinet? What about Sonny and Rudy?
"Hamish is very well stocked with Go-To, but the only products he uses religiously is SPF. The kids 'use' (waste) all my
Properly Clean
in the shower, and I slather them in Go-To creams and oils if their skin is red, itchy or flaky. (Hamish swears by
Very Useful Face Cream
for this, I swear by
Face Hero
. It's a fun battle we have.)"