French haute couture fashion house Maison Margiela rejects conformity in favour of an avant garde, counter-culture aesthetic.
And the Maison's approach to fragrance is certainly no exception. REPLICA, the Maison Margiela scent brand, is an unorthodox and much-adored take on an olfactory story.
While most fragrance houses design perfumes that elevate hero ingredients or capture an atmosphere, mood or spirit, REPLICA delivers a marked departure from this tradition. Instead, the house captures the very specific scent of a memory, anchored in the place, time or activity that the perfume is named for. Think: Whispers In The Library, named for its cozy fragrance of paper and waxed wood, and When The Rain Stops, which references the freshness of a just-washed sky.
Capturing sensations that can be at once hard to put into words, and equally visceral, Maison Margiela fragrances are housed in a minimalist's dream; their clear glass bottles wrapped in a typeface-style label that evokes an apothecary. With an addictively collectable quality, REPLICA truly offers a scent for everyone (and every occasion). Here are our top five.
There's woody fragrances, and then there's the very literal sense that you are camped out in front of a deliciously smoky, crackling open fire. With its scent of burning Guaiac wood, juniper and chestnut, By The Fireplace all but rolls out the Persian rug and the leather ottoman for you. Despite the heady wood aroma, this fragrance has a warm, enveloping complexity. Pink pepper, orange blossom and clove oil bring a spicy, sexy element that will appeal to lovers of Palo Santo and incense.
With a dry down that settles into a sweet amber and vanilla concoction, subtle smokiness lingers without overpowering, and a burnt caramel note reminiscent of toasted marshmallows brings the fragrance back to its woodsy heart. While By The Fireplace is ideated as a winter fragrance, lovers of this uniquely smoky perfume are dedicated to it year-round. With its genderless quality, it has earned its many die hard fans.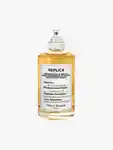 Bottle this: sun-drenched, rumpled white sheets. Morning light pouring through open windows. A light summer breeze, fresh air, a sense of possibility, joy and wonder. That's the essence of Lazy Sunday Morning, an alluringly clean, crisp fragrance that wears like bare skin on fresh linens.
A firm MECCA favourite for its understated, minimalist tone, this perfume may be simple, but it's certainly not boring. Delicate floral notes layer subtly like the scent of coffee luring you out of bed. Lily of the valley, iris and orange flower mingle with fresh pear for a sweetness that's not cloying. White musk and ambrette seeds ground the fragrance while its unassuming nature gives it serious wearability, day in and day out.
Pure, luxurious and clean, Lazy Sunday Morning will make you want to take a cool shower and slip into a robe. After all, you've got nowhere to be, and all the time in the world.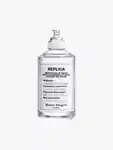 Think: mood lighting, leather bar stools, the tinkle of ice in a heavy-bottomed glass. Inspired by Brooklyn jazz clubs, this aptly-named fragrance has an old world soul. Unabashedly masculine in tone (though like all fragrances, it can be worn by anyone), Jazz Club has a heady, smoky scent that borrows from the dimly lit underground. Boasting ambience for days, notes of pink pepper, rum absolute and vanilla bean reference an intoxicating blend of signature cocktails. Tobacco leaf and clary sage oil give a smoky nod to luxury cigars while vetiver oil and styrax resin are reminiscent of the sticky, tackiness of a dark wood bar. Boozy, complex and sophisticated, Jazz Club is an ode to nightlife, but with a lemony zing to freshen it up. As surprising as it is intoxicating, one spritz and you'll want to settle in with a Negroni in hand.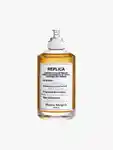 An absolute runaway hit, Maison Margiela's Beach Walk is steeped in summer sun, with salty skin and ocean spray. Taking its inspiration from the sepia toned Corsica coastline, this is a light-touch take on floral fragrance.
Bergamot brings the citrus zing while pink pepper, lemon and ylang ylang keep things fresh and tangy. Coconut milk is responsible for that sandy, pleasant ode to sunscreen (which sounds strange until you smell it and find yourself instantly mentally beachside). With heliotrope, musk and cedarwood sweetening the bloom, wear it at the tail end of summer to prolong the good times, or let yourself be transported to sun-soaked days when the clouds hang low.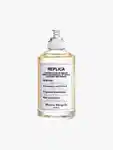 Like blossom petals fluttering in the breeze, this sweet floral fragrance [fragrance-shopbyscent-floral] is pretty as a picture. For floral lovers who like to keep things light, Springtime In A Park is the perfect balance of pretty and soft. With its provenance in Shanghai, this fragrance blends fruity top notes of pear and blackcurrant with bouquets of lily of the valley, jasmine and damask rose.
Settling in with base notes of delicate animal tone musk and ambrox, Springtime In A Park is very wearable, not overpowering, and reminiscent of pastel colours and fluffy clouds. While some florals can skew young, Maison Margiela has perfected a more grown up, classic take on a flower-forward scent, and the result is clean, subtle and polished.