Most of us love having a beautifully fresh, clean home. But most of us hate cleaning.
And it's this conundrum that inspired the Parisian maison Diptyque to create their bespoke collection of household cleaning products.
La Droguerie may sound like a hip new club or perhaps an emotion you can only feel in Paris, but in fact the range is named for the French stores that sell everything home-related, from pots and pans to DIY tools.
Diptyque believes that perfuming everyday life is an art. Beloved around the world for their home fragrance innovations including giant outdoor candles to scent alfresco areas, discreet wax ovals to slip into drawers and refillable diffusers to add to cars, Diptyque always takes perfumery in new and unexpected directions. And the La Droguerie range is no exception: a full collection of household cleaning products that blend beauty with effectiveness, olfactory joy and respect for the environment. Prepare to be overcome with the desire for a spring clean, any time of year.
Cleaning products aren't typically known for their pleasure or inspiration. They're simply considered a means to an end. But La Droguerie adds a fresh twist to domestic chores, built on the idea of a mini revolution: satisfaction need not wait for the end of a job well done. The scents, designs and formulations are created to enchant and bring joy to the practical tasks of our day-to-day lives as we do them, moment by moment, as time goes by. It's a take on mindfulness that makes chores feel less like, well, a chore, and more like a meditative, presence-inducing state.
Swap the drudgery for La Droguerie and you might even look forward to cleaning.
Created by perfumer Olivier Pescheux, the man behind classic Diptyque fragrances
Orphéon
,
Eau Capitale
and
Fleur de Peau
, the custom-designed scents in each La Droguerie product are formulated using naturally-derived ingredients certified by Ecocert. These household products transform the home into a fragrant sanctuary. Wander through sunkissed groves of fig trees and orange blossom while you do the dishes. Breathe in bouquets of lavender and fig as you wipe down the surfaces. And inhale the scent of a fresh herb garden, thanks to the anti-odour candle's notes of basil, tomato and fresh mint. "It's like a tomato vine is right under your nose," says one MECCA reviewer. Rather than flowery or overpowering scents, the La Droguerie range features toned-down, earthy fragrances that reference gardens and aim to neutralise smells. It's a different take on scent, but a refreshing and enlivening one that is perfectly suited to the home.
Intrigued? Meet the eclectic products that make up the La Droguerie collection...
Delicately perfumed with lively notes of orange blossom, mandarin and basil, the Dishwashing Liquid foams to clean dishes and utensils with ease. Its zesty, citrusy personality will end the fight over who's on dishes once and for all.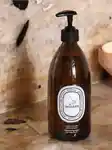 A multitasker that leaves everything gleaming in its wake, this cleaning spray is the go-to for degreasing, descaling and de-griming your home from top to bottom. Its discreet vinegar-based formula is wrapped in notes of lavender, cedar and fig tree for a subtly aromatic fragrance that lingers in the air.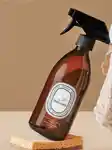 This beeswax-based lotion restores shine and protects everything wood and leather. From your sofa to your chest of drawers and from leather jackets and handbags to picture frames, it is the secret to a polished (and delightfully honey-scented) home.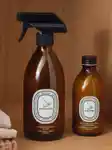 Don't be fooled – this is no ordinary candle. Here, we have a home fragrance that doesn't simply mask odours, but absorbs fragrant molecules in the air, eliminating them altogether. Replace unwanted smells like tobacco, unwashed laundry or pets with the fresh, summery fragrance of fresh basil, mint and crushed tomato leaves.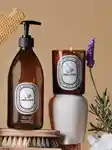 Keeping your woollen jumpers, coats and scarves free from moths, the Ceramic Oval wards off insects and subtly perfumes small spaces with soothing notes of cedar wood and lavender. Made to last, it comes with a spray to reactivate its protective qualities as the months go by.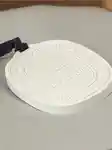 Good for you, and the planet
For Diptyque, creating beautiful objects is not enough; the products must also be environmentally responsible to be truly joyful. Rather than the harsh, chemical-smelling approach of many household cleaners, the liquid formulations in the La Droguerie collection feature mostly plant-derived ingredients and are biodegradable, which really matters when you're sending them down the drain and into our waterways. And it's not just what's on the inside that counts. The amber-coloured bottles are chic and timeless, but more importantly they're made of recycled glass and can be refilled to enjoy time and time again. Purchase the accompanying
Dishwashing Liquid with Orange Blossom Refill
pack to minimise packaging and keep your supply topped up. And with ingredients that are 99 percent naturally-derived, you can rest assured that your home is in good hands.