Flamingo Estate's Richard Christiansen on life chapters and radical pleasure
January 1 | 68 minute listen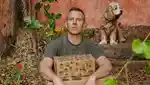 Hosted By Kate Blythe & Zara Wong
Originally published on | June 29
Welcome back to MECCA Talks, your access all areas pass to the beauty, business, and lifestyle experts we call our community.
Celebrated creative Richard Christiansen's home is not a restaurant, though Chrissy Teigen might have you fooled otherwise!
In this episode of MECCA Talks, Kate and Zara are joined by the man of many life chapters, whose quirky LA residence evolved into a salt-of-the-earth produce, wellness, home and body care brand during the pandemic – and fast resonated with Hollywood (including the aforementioned Chrissy, as well as likes of Oprah, Ellen, Martha Stewart and Hailey Bieber), and now, the rest of the world.
Listen as Christiansen generously shares the journey from his farm-style upbringing in rural NSW to a law career in London, to fashion, publishing and advertising in New York – and finally to the COVID-induced 'pivot' that turned everything on its head. This is the pleasure-filled story of Flamingo Estate, now available at MECCA.