Since the moment rumours emerged of D.S. & DURGA launching a fragrance with top, middle and base notes of pistachio, I have incessantly pestered the MECCA fragrance team for a whiff. When it landed on my desk, I inhaled as though I'd spent a lifetime practicing pranayama.
It may be one of the world's oldest nuts, but pistachio is proving it's never too late to have your moment; it was recently identified by major fashion, beauty and lifestyle publications as the 'it' note of 2023, and most notably, the scent 'all the cool kids' are wearing.
From my perspective, pistachio is by far the most delicious, delicate and delightfully coloured of the nut family; it makes for a top-tier ice-cream flavour, sits at the heart of all the great pastries (baklava, Persian love cake, anything filled with pistachio crème-pat) and even inspired the colour of my kitchen cabinets. In what world wouldn't I want to smell like a walking, talking pistachio? (And sure, maybe I also want to be one of those 'cool kids' they're talking about…)
To put into words the scent of a pistachio, as I salivate over a handful as I type: mildly sweet, quite creamy, gently aromatic, and slightly pine-y. I like them best a little toasted for a comforting, more 'baked' flavour. As a fragrance note, it's like the new, cooler way to do gourmand– taking the place of the more traditional marshmallow, cotton candy and vanilla notes.
First, there's the new launch from
D.S. & DURGA, aptly named Pistachio EDP
, which balances top, middle and base notes of pistachio with cardamom, roasted almond, patchouli and vanilla crème and makes me drool at the thought. This smelt older than I had anticipated, in a good way. There's a real sophistication in this scent that surprised me; I feel this is one of those rare scents you could easily gift to anyone. Take it to the next level and layer it with a rose fragrance – maybe something on the lighter, fresher side, like
Diptyque's Eau Rose EDT
, Maison Francis Kurkdjian's
À La Rose EDP
or
D.S. & DURGA's Rose Atlantic EDP
, for a unique, Middle Eastern sweets-inspired signature scent. (The Persian love cake of scent, if you will!)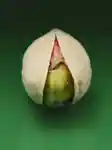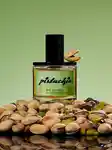 For more pistachio – in its sweetest, most mouth-watering form – you can't go past Sol de Janeiro's signature Cheirosa '62 blend – a concoction of salted caramel, pistachio, jasmine petals and vanilla. It's the hero fragrance behind their bestselling Brazilian Bum Bum Cream and has since been reimagined into a perfume mist, a firming body oil (potentially my favourite of the suite!), a shampoo and conditioner, and a straight-up EDP.
And for perhaps the most luxe of the pistachio pack, there's Tom Ford's Soleil Blanc EDP, a true tropical holiday scent that pairs pistachio with its spice BFF, cardamom, in addition to exotic floral ylang ylang and the creamy nuttiness of coco de mer.
Whatever you do, I beg of you; please don't ask me to choose a favourite!